August 25, 2023
13 Key Moments in 13 Years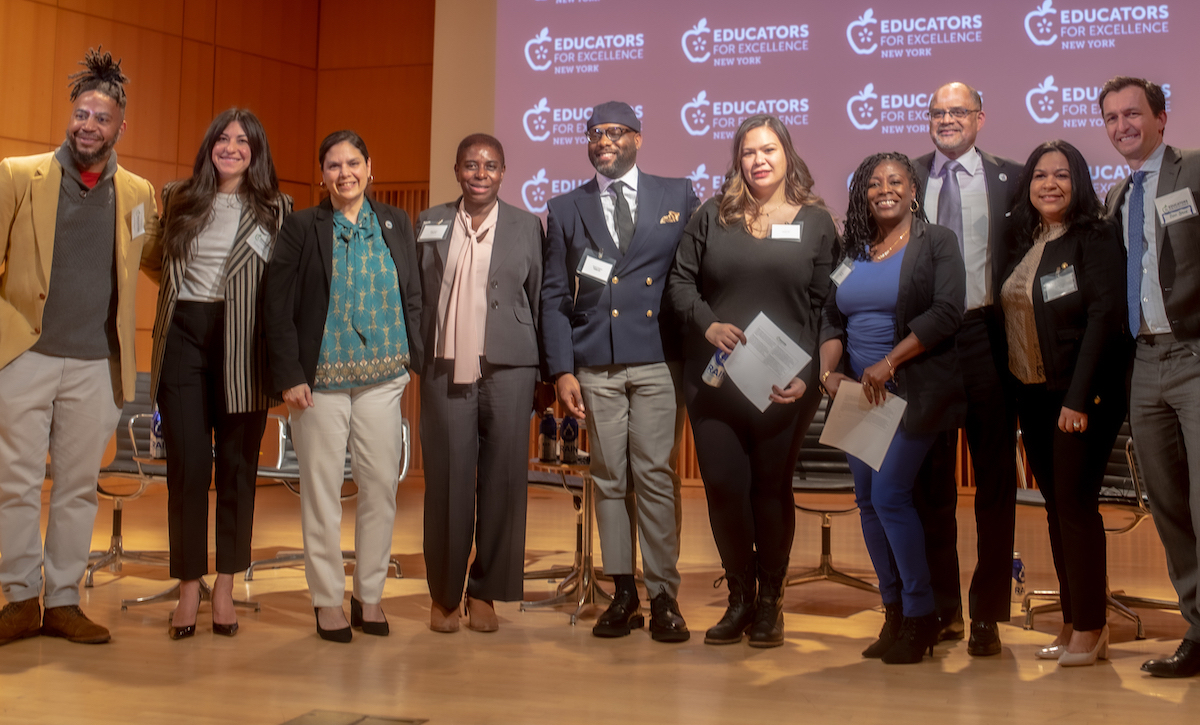 This week, Educators for Excellence (E4E) celebrates its 13th anniversary! What began in 2010 as an idea from a small group of teachers in the Bronx has since grown to a movement of more than 35,000 educators committed to elevating the teaching profession and improving student outcomes.
Over the last 13 years, E4E has celebrated dozens of significant wins across our six chapters by fighting for teachers to have a seat at the decision-making table. We're proud that so many of our teacher members and leaders are actively organizing their colleagues to build power and use their voices to ensure policymakers at every level are talking with them rather than about them.
Here's a look back at 13 key moments in the last 13 years as a student-centered and teacher-led organization:
2010: E4E was born when our founders realized teachers across New York City shared their feelings that the system wasn't working for students or teachers but that educators had answers.
2011: E4E quickly expanded to support a growing movement of teachers in Los Angeles, launching our second chapter (E4E-LA). Read more in the Wall Street Journal.
2013: A local group of teachers in Minnesota, Empowering Educators for Equity, merged with E4E to become our third chapter. Read more in the MinnPost.
2014: In the summer of 2014, an E4E-Connecticut Teacher Action Team launched the chapter's first policy paper on improving professional development (PD) in Bridgeport. Their efforts led to opportunities for teachers to lead professional development sessions and a new online platform where teachers could select PD tailored to their needs.
2015: E4E launched its first significant growth and expansion plan that jump-started a period of really rapid growth for the organization. The organization went from three chapters to the six we have today (Boston, Chicago, Connecticut, Los Angeles, Minnesota, and New York).
2016: Our Declaration of Teachers' Principals and Beliefs was re-written by current classroom teachers from across the country to reflect the ideas of E4E's diverse and growing membership.
2017: E4E-Los Angeles members worked with California Assemblymember Dr. Shirley Weber and Teach Plus to co-write the Teacher and Student Success Act (AB 1220/AB 3091). Based on recommendations from E4E-LA's policy paper, Reimagining Tenure, the bill sought to increase the amount of time early-career educators have to demonstrate effectiveness.
2018: E4E released its first annual nationally representative survey, 2018 Voices from the Classroom: A Survey of America's Educators, which captures the views and opinions of educators across the country on a wide variety of education issues.
2019: E4E-Boston's Schools that Heal campaign helped push the state to pass the Student Opportunity Act – a $1.5 billion investment in public education that significantly increased funding for guidance and psychological services.
2020: E4E-Los Angeles partnered with Alliance for a Better Community to lead a group of education advocacy organizations in drafting a school board resolution directly informed by teachers' feedback to set a minimum bar for quality instruction. As a result, on August 25, 2020 (E4E's 10th anniversary), the LAUSD school board unanimously voted to pass the resolution. Learn more in our FY20 annual report.
2021: E4E formed its first National Teacher Leader Council (NTLC), a two-year cohort of outstanding teacher leaders from across our six chapters. This year also saw two major policy wins:

E4E-Chicago members successfully advocated for a $24M investment in more trauma-informed, healing-centered practices and mental wellness across Chicago Public Schools.
E4E-Connecticut, in partnership with a broad coalition of peer organizations, successfully advocated for S.B. 948, an act addressing education funding and racial equity in Connecticut. These measures directed additional funding to schools serving English language learners and high concentrations of students from low-income households.
2022: E4E-Minnesota members made history by leveraging their union to modify teacher contracts so that layoffs are not based solely on seniority — and instead, protect teacher quality and diversity on behalf of students.
2023: E4E teamed up with TNTP to release the publication "So All Students Thrive: Rethinking Layoff Policy To Protect Teacher Diversity" to expose seniority-based layoff policies that disproportionately impact teachers of color. The paper also includes policy recommendations that help protect a diverse workforce and ensure all students thrive.

Another milestone this year is when E4E-NY educators secured a major policy win after a full year of advocacy. Over two years, all New York City elementary schools will move to one of three high-quality ELA curriculum options, and millions of dollars will be invested in teacher training and support.
Today, E4E is one of the only organizations in the field advancing systems change by weaving together teacher-led policy change with the power and potential of teachers' unions led by student-focused educators. After 13 years, our mission to ensure teachers have a leading voice in the policies that impact their students and their profession hasn't changed and feels as urgent as ever.
Are you interested in joining our growing movement? Become a member and start getting involved with your local chapter today!
Currently Reading
13 Key Moments in 13 Years