Thriving, Not Just Surviving
Building a Positive School Culture
May 2019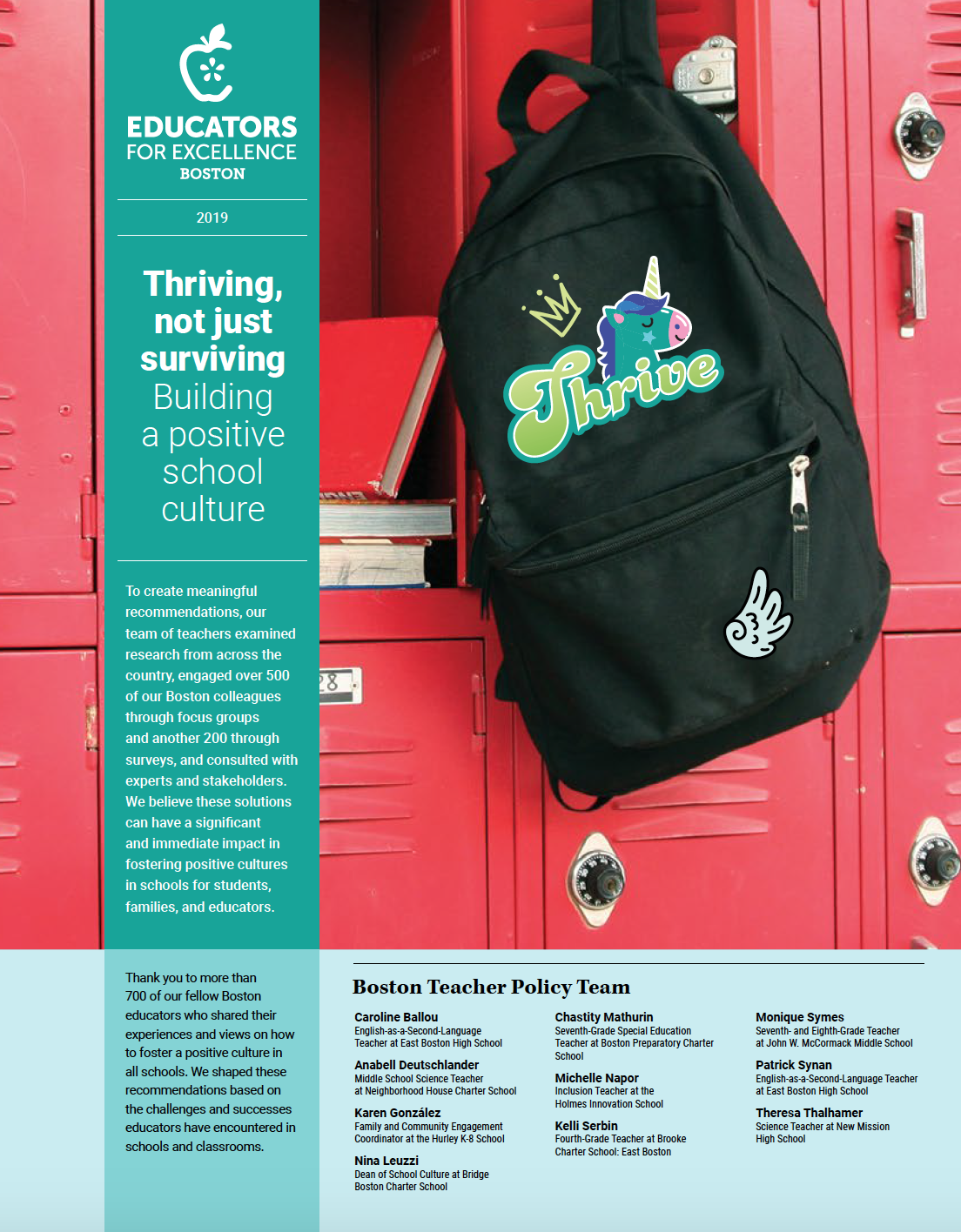 Although Massachusetts schools rank among the best in the nation academically, they are plagued by some of the largest opportunity gaps for students from low-income families and students of color. When it comes to closing these gaps, decision-makers often ignore one of the chief causes: school culture. In order to learn and teach, we need schools that have a shared vision, strong relationships, and opportunities to recognize and celebrate everyone's hard work.
In fact, research shows all students perform better in schools with healthy environments, and our experience as teachers underscores that daily. Researchers examining 78 school climate studies found a direct link between school climate and student achievement in all but one study. Any educator can tell you why: Students and teachers need safe, welcoming, and engaging schools in order to thrive.
The fact is too many Massachusetts students and educators are struggling today in schools where they feel isolated and under-supported. Ninety-seven percent of surveyed Boston educators shared that school culture directly impacts their retention, and we know that teacher turnover negatively impacts student achievement.
So we asked: What could we achieve if every student and educator had a safe and supportive school community? And how can we build that culture? 
Recommendations
Create a Plan
Increase schools' capacity to examine the current obstacles and to develop a positive school culture.
The Massachusetts Legislature should increase funding for the Safe and Supportive Schools Grant program to support all districts.
The Massachusetts Legislature should amend the School Site Council law to include improving school culture as a major area of responsibility. 
Give Teachers the Space to Lead
Provide teachers with the structure to create a collaborative culture in which they can learn from one another and build essential skills.  
Districts should guarantee that staff have more designated time during school hours for professional development, including time for collaboration and peer observations.
Schools should incorporate peer observation and feedback as a regular part of instructional practice and professional development. 
Engage Families and Communities
Reduce barriers to meaningful family and community engagement and share best practices to involve school stakeholders.
School districts should establish a role in every school dedicated to family and community engagement. 
The Massachusetts Department of Elementary and Secondary Education (DESE) should collect and share parent engagement data disaggregated by school, school type, student demographics, and engagement strategies. 
Let Every Child Learn
Support teachers to manage classroom discipline through relationship-building. 
The Massachusetts Legislature should uphold the principles outlined in the 2014 federal school discipline guidance by instituting it as state guidance.
The Massachusetts Department of Elementary and Secondary Education (DESE) and local districts should expand trainings and supports for the implementation of non-punitive discipline, such as restorative justice.
About the Teacher Action Team
Thank you to more than 700 of our fellow Boston educators who shared their experiences and views on how to foster a positive culture in all schools. We shaped these recommendations based on the challenges and successes educators have encountered in schools and classrooms. 
Caroline Ballou English-as-a-Second-Language Teacher at East Boston High School
Anabell Deutschlander Middle School Science Teacher at Neighborhood House Charter School
Karen González Family and Community Engagement Coordinator at the Hurley K-8 School
Nina Leuzzi Dean of School Culture at Bridge Boston Charter School
Chastity Mathurin Seventh-Grade Special Education Teacher at Boston Preparatory Charter School
Michelle Napor Inclusion Teacher at the Holmes Innovation School
Kelli Serbin Fourth-Grade Teacher at Brooke Charter School: East Boston
Monique Symes Seventh- and Eighth-Grade Teacher at John W. McCormack Middle School
Patrick Synan English-as-a-Second-Language Teacher at East Boston High School
Theresa Thalhamer Science Teacher at New Mission High School