Principals Matter
Principal Evaluations From a Teacher Perspective
March 2012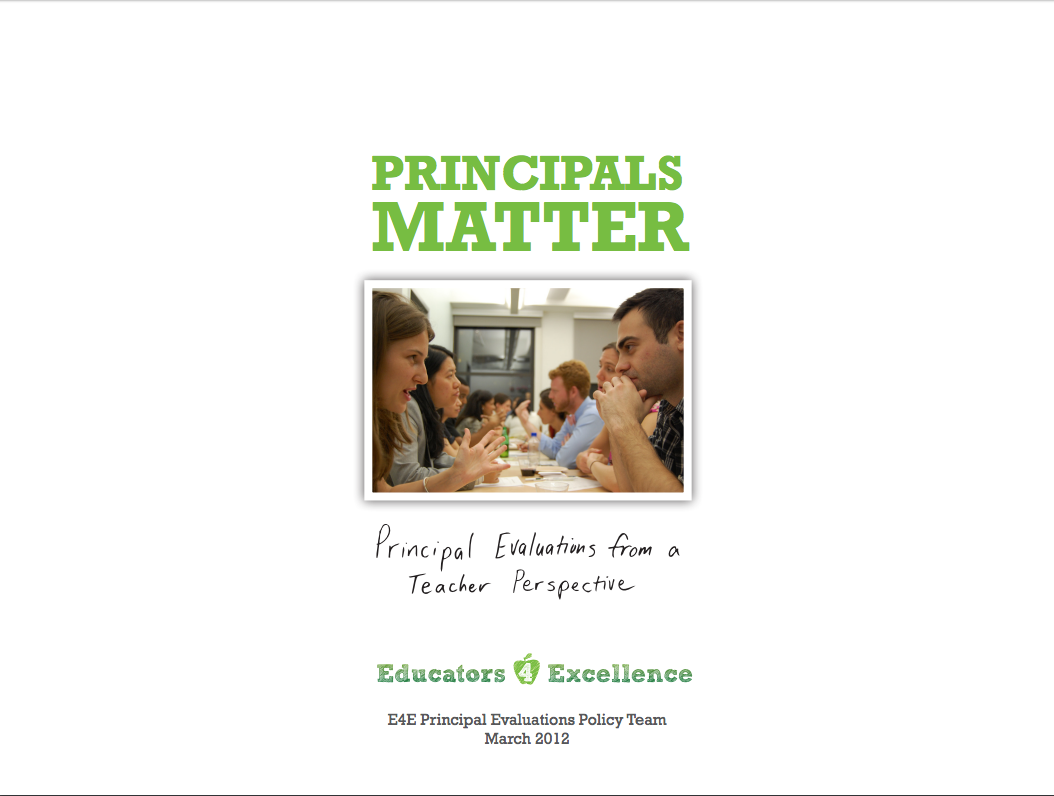 As teachers, we know we are better able to help our students when we have real support from our administrators. Teachers and students are impacted when principals do not provide substantive, effective support. In fact, a 2010 survey of 5,000 New York City teachers who left the profession found more than 40 percent of teachers listed dissatisfaction with administration as the most important factor in leaving the school.
In a city like ours with a massive teacher retention problem, where half of all teachers leave within five years, principal accountability should be a major priority. However, despite several years of discussions about teacher evaluations, New York City has barely broached the topic of evaluating principals. Just as teachers need meaningful support to grow as professionals, principals also need feedback to become more effective in their roles. We are not interested in a punitive system for principals; we want principals to be evaluated and supported so they can help us help our students.
Recommendations:
Update and improve school climate surveys to paint a more accurate picture of a principal's effectiveness.

Include effective teacher retention data, as principals should be given credit for their role in ensuring that effective teachers stay teaching.

Use student attendance, school safety information, and student growth data as measures of effectiveness to reflect principals' roles as instructional leaders and influencers of school culture.

Implement a system of multiple observations by trained supervisors to provide principals with meaningful feedback.

Allow principals and evaluators to jointly select evaluation rubrics to ensure fairness and flexibility for different school types and different levels of principal experience.

Mandate that principal goals focus on areas of weakness.
About the Teacher Action Team
Our team of 18 teachers held meetings after school over five months. We examined New York's current principal evaluation system, researched the role of a principal, pored over rubrics and debated what an ideal principal does. In December 2011, we sent an open online survey to New York City teachers about our initial ideas that received more than 200 responses. We analyzed the results, discussed alternative suggestions that teachers submitted and modified our vision and recommendations accordingly.
Arturo Acevedo High School Spanish and Social Studies Teacher in Bed-Stuy, Brooklyn
Brittany Beck Middle School Science Teacher in Bushwick, Brooklyn
Tara Brancato Music and Human Rights Teacher in the North Bronx
Sam Buchbinder 11th- and 12th-grade History Teacher in the Bronx
Lisette Enumah High School Science Teacher in Harlem
Katherine Genao Kindergarten Teacher in the Bronx
Tamara Gilkes 6th- and 7th-grade Science Teacher in Bushwick, Brooklyn
Luke Goodwin High School Social Studies Teacher in the South Bronx
Ryan Hall 8th-grade Math Teacher in Williamsburg, Brooklyn
Natalie Harrington High School English Teacher in the South Bronx
Stephan Hasson Middle School Special Education Teacher in the South Bronx
Elizabeth Jandron 6th-grade English Language Arts Teacher in the South Bronx
Barbra Kay Middle School Special Education Teacher in Carroll Gardens, Brooklyn
Rob Magliaro 8th-grade Math Teacher in the South Bronx
Mariya Pushkantser 8th-grade Literacy Teacher in the South Bronx
Maria Salazar 7th- and 8th-grade Native Language Arts Teacher on the Upper West Side
Bethany Schaid 6th-grade Social Studies Teacher in Washington Heights
Melissa Slater High School Social Studies Teacher in Brooklyn