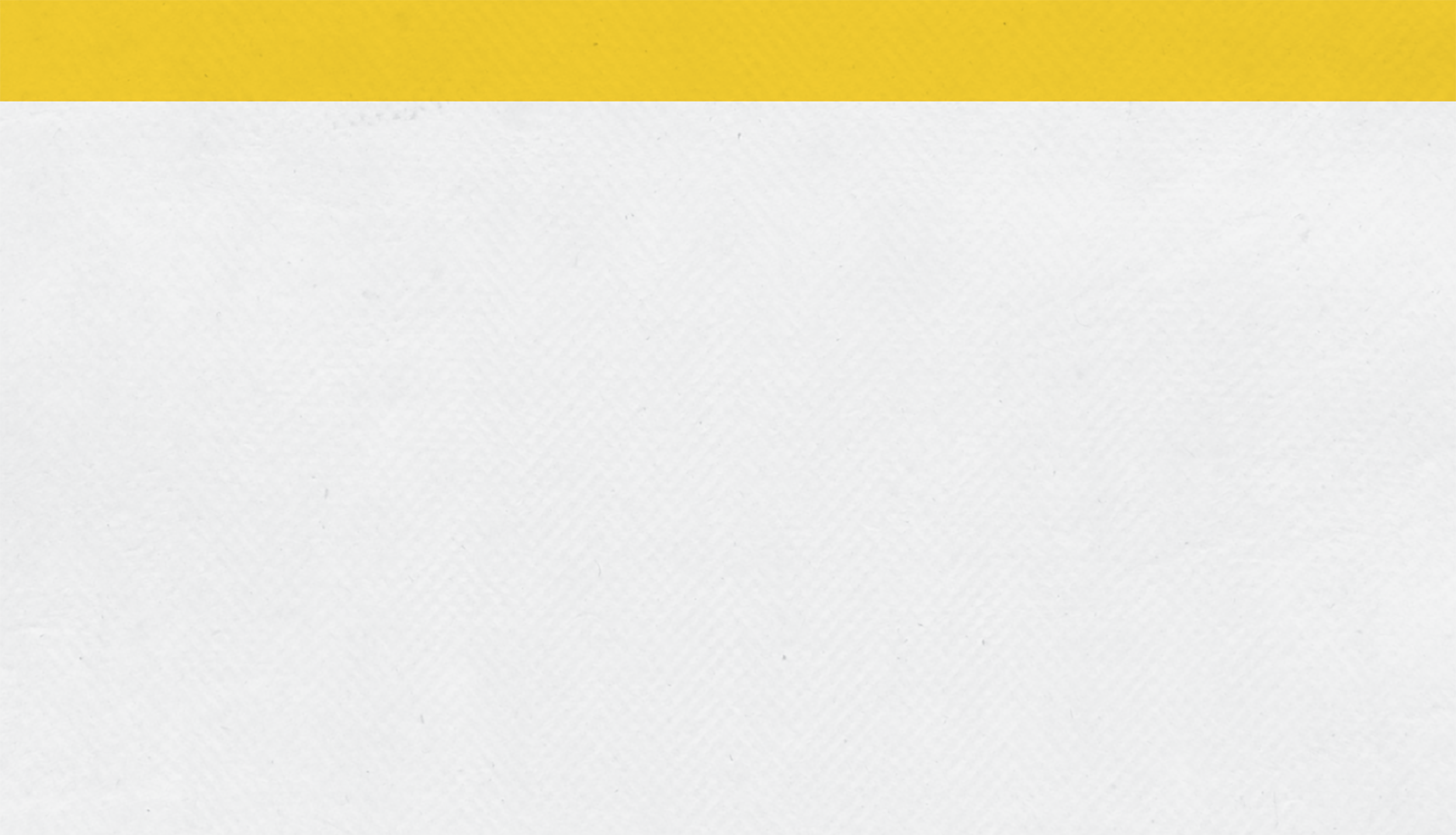 Investing in Our Future
Honoring Teachers' Voices in Professional Development
June 2015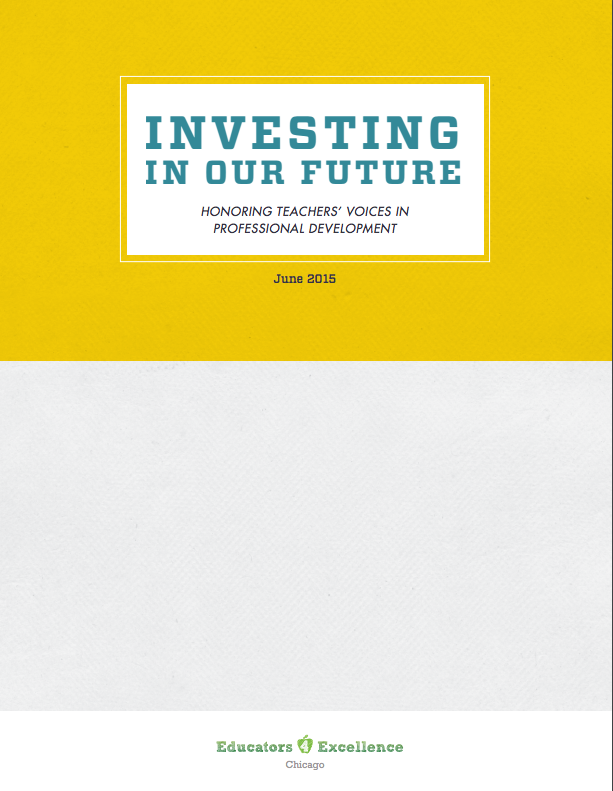 We know from our own experience, and research confirms, that teachers are the most important school-based factor in closing gaps in student access and outcomes. Research also shows that when teachers make noticeable improvements to their practice, the individual performance of their colleagues improves as well. For these reasons, it is wise to invest in constant support and regular growth opportunities that improve our content knowledge, deepen our pedagogical expertise and strengthen our ability to serve the diverse needs of our students.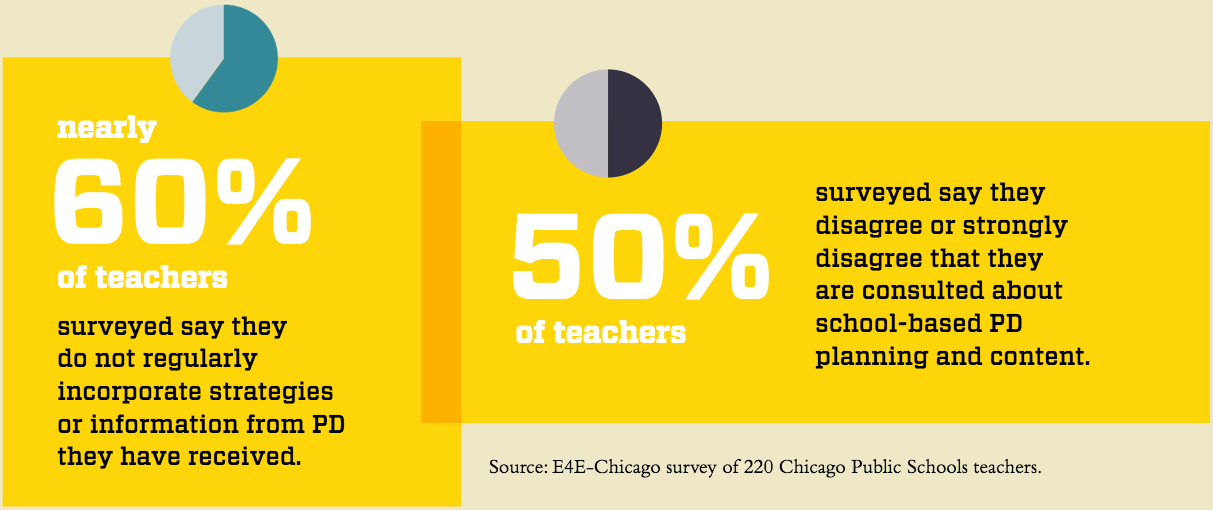 Unfortunately, our desire to be successful is not enough. Meaningful professional development (PD) is critical to identifying and expanding teaching practices that drive student growth and achievement. PD, as it stands, does not yet fully meet our needs as Chicago Public Schools (CPS) teachers. Much of the time carved out for PD during the academic year is dedicated to communicating compliance-based content and processing student grades, rather than developing our skills or providing targeted growth opportunities. The coordination and structure of PD in CPS are limited, resulting in drastic variation in the quality, content and rigor of support and opportunities offered from school to school and across networks. As a result, PD is also failing to meet the needs of our students.

Recommendations:
Refresh CPS' vision and scope for PD to incorporate teacher guidance and set a standard expectation of teacher PD that is consistent across the district.

Growth areas identified in REACH evaluation results should be paired with suggested PD opportunities that address the skills or knowledge needing improvement.

CPS should re-evaluate and streamline its current communication system to ensure that district resources are clearly and regularly shared with teachers through one, coordinated system.

CPS should create accountability structures and systems that allow teachers to give feedback on the quality and effectiveness of PD resources and trainings.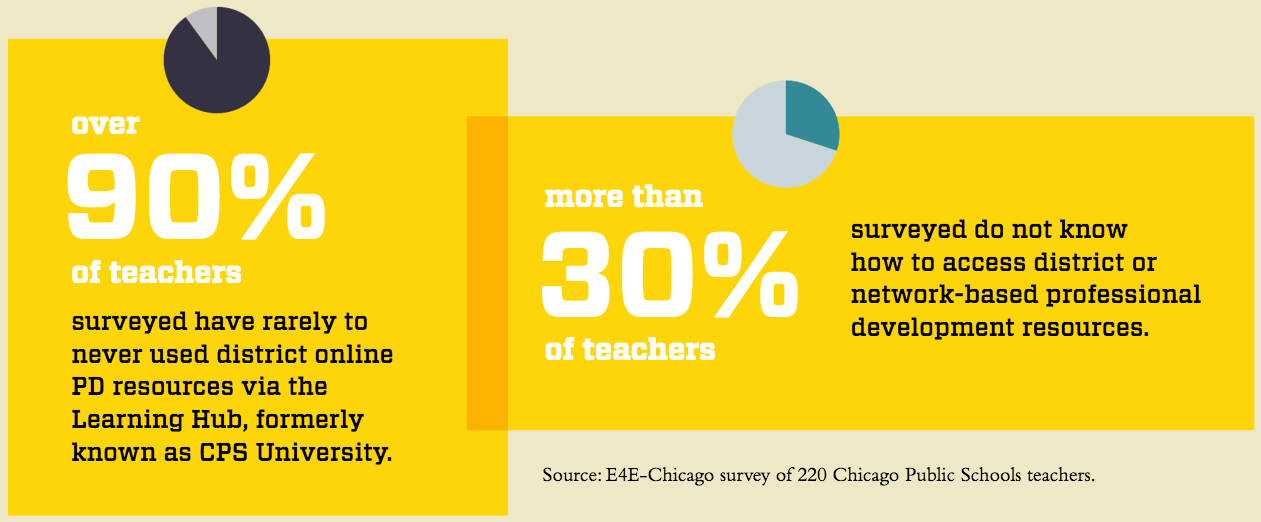 About the Teacher Action Team
We are a diverse team of five teachers who worked together to gather input from teachers across the district, conduct research from leading experts and meet Chicago-area stakeholders to form key policy recommendations for improving teacher PD. In addition to collecting 220 surveys from educators across the district, we also convened eleven focus groups over two months, engaging more than 60 teachers–both elementary and high school–in PD-focused discussions to help highlight key trends, identify gaps and workshop potential solutions.
Brooke Craig 1st-grade Teacher at Morton School of Excellence
Steven G. Fouts, Ed.D. Math Teacher at Frederick Douglass Academy High School
DeJernet Farder 1st-grade Teacher at Morton School of Excellence
Judie Stork Social Studies and Foreign Language Teacher at W.E.B. DuBois Elementary School
Alyson Stout, M.Ed. Special Education Teacher at VOISE Academy High School