Getting It Right
A Blueprint for Effective Implementation of the New York City Teacher Evaluation System
June 2013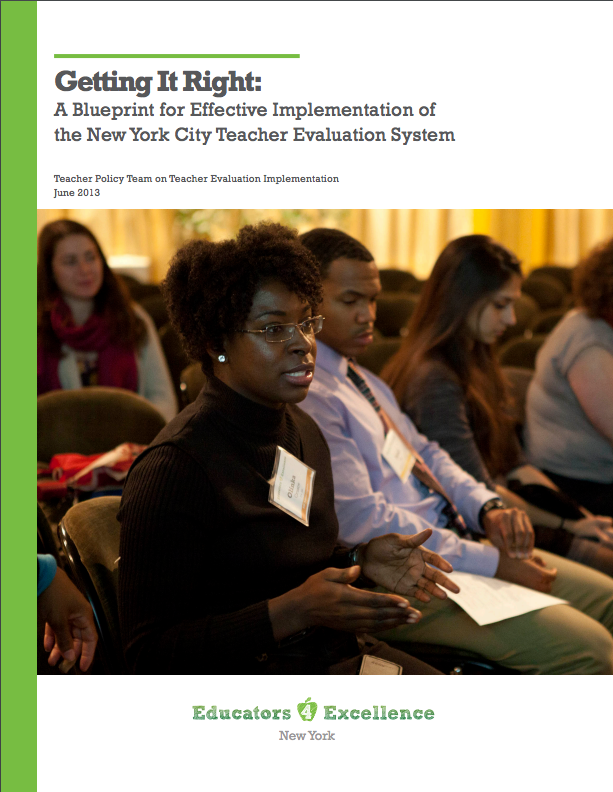 On June 1, 2013, New York State Education Commissioner John King outlined the details of New York City's new system for teacher evaluation, which would be enacted districtwide in September 2013. Although the new evaluation system was a positive step toward helping teachers grow and improve, the system's ultimate success will be defined by the quality of its implementation.  
To be successful, teacher evaluation must foster effective communication and trust between all parties. It is imperative that the system be implemented with fidelity by including thoughtful training, transparency, accountability and reflection.
Recommendations:
Train evaluators and teachers on how to use the Danielson Framework and on how to give and receive feedback in constructive conversations.

Organize teachers' observation schedules to prioritize support and development.

Manage principals' observation portfolios and leverage highly effective teachers as trained observers.

Deliver feedback in a timely fashion and tie it to meaningful and targeted professional development opportunities.

Gather feedback on the teacher evaluation process using system wide surveys.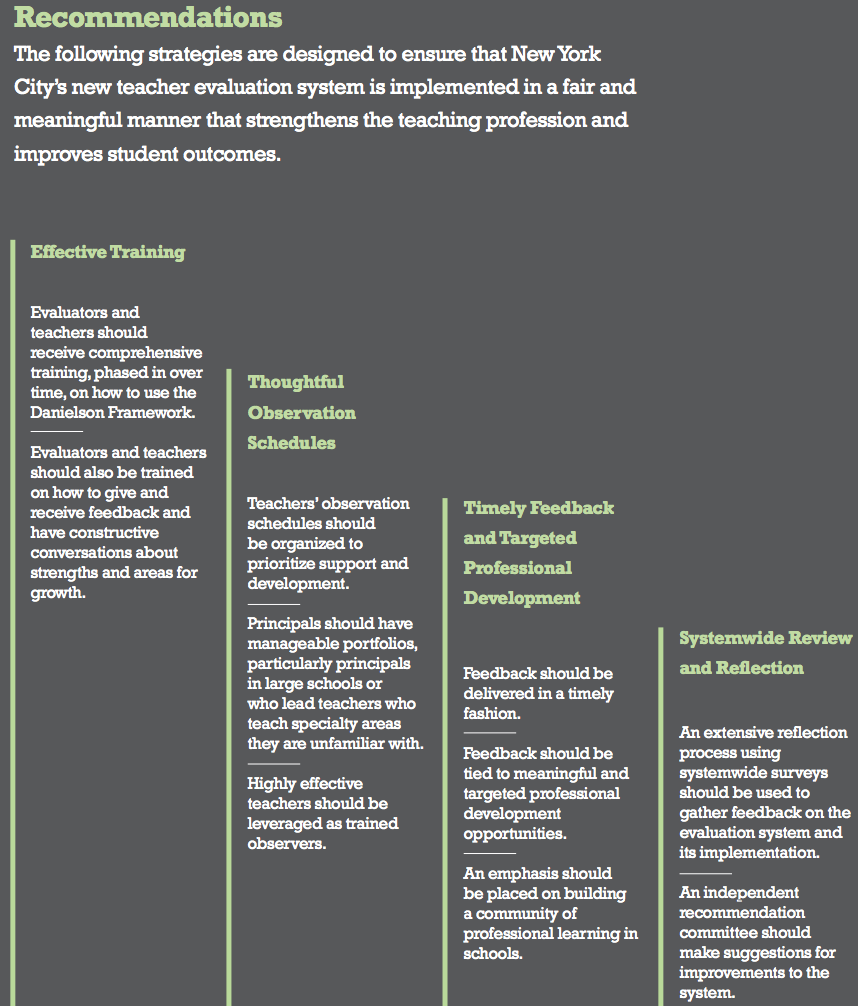 About the Teacher Action Team
Our team of 14 teachers met for several months to review research on different evaluation systems, as well as proposed or piloted local strategies. Additionally, we hosted conversations with leaders from the New York City Department of Education, TNTP and other national experts. Our Policy Team conducted more than 120 peer and administrator interviews to gather critical stakeholder feedback. We also conducted a survey of 170 E4E members and nonmembers to understand the most critical issues affecting teacher evaluation implementation.
Jamie Baez High School ESL/ELA Teacher at Manhattan Bridges High School
Annie Gallagher 4th- and 5th-grade Special Education Teacher at P.S. 164 Caesar Rodney
Rafael Gondim 5th-grade Teacher at P.S.89 Elmhurst
Matt Greenawalt 8th-grade Math Teacher at M.S. 206 Clinton School for Writers and Artists
Rhena Jasey 5th-grade Teacher at The Equity Project Charter School
Kelli Licata 4th-grade Teacher at NEST+M
Robert O'Leary High School ESL Teacher at High School for Law and Public Service
Beth Pollak 7th-grade English Teacher at P.S. 126 Jacob August Riis
Keith Scalia High School English Teacher at John Adams High School
Matthew Schatz Kindergarten Teacher at P.S.145 The Bloomingdale School
Laura Siegle 7th-grade Humanities Teacher at Lower Manhattan Community Middle School
Ruth Thomas 4th-grade Teacher at P.S. 102 Jacques Cartier
Katelynn Tymczyszyn 2nd-4th-grade Special Education Teacher at P.S. 81 Thaddeus Stevens
Delores Walker 4th-grade Teacher at P.S. 35 Franz Siegel
Olinka Crusoe Third grade ESL teacher at P.S. 230 Dr. Roland N. Patterson