Educators for Excellence-Chicago is proud to present: What's Up with the Chicago School Board? A Conversation on Representation. Join us on Thursday, July 13, 2023, and RSVP before spots fill!
Register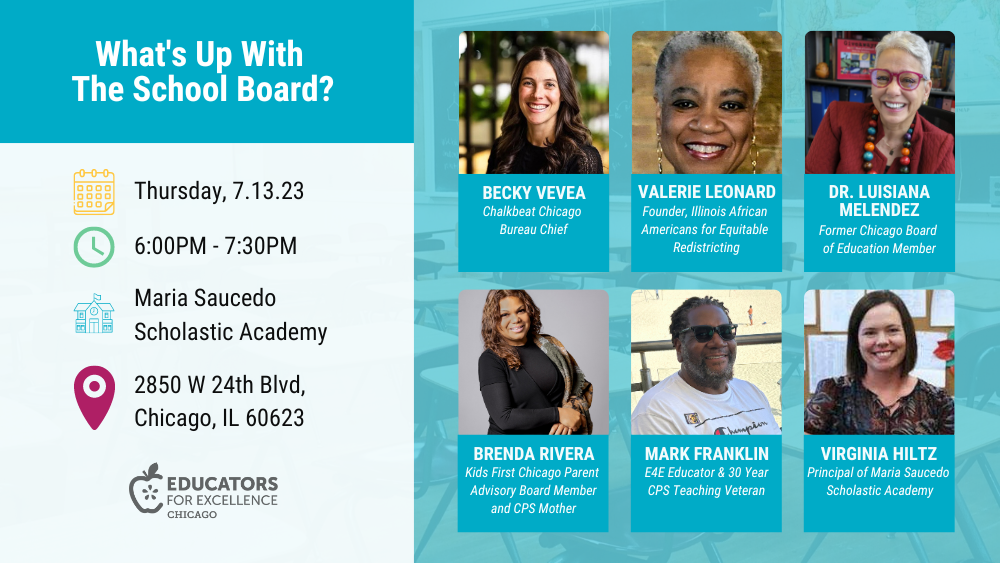 Join Moderator Becky Vevea from Chalkbeat Chicago and esteemed expert panelists:
Mark Franklin is a 30-year teaching veteran at Chicago Public Schools and has been a crucial member of the original E4E Elected School Board Teacher Action Team since 2021.
Brenda Rivera is a CPS mother of an eighth-grade student. She also serves on the Kids First Chicago Parent Advisory Board, working on issues such as advocating for parent priorities on Chicago's newly elected school board.
Valerie Leonard is the founder of Illinois African Americans for Equitable Redistricting (IAAFER). IAAFER was formed in 2021 to serve the interests of Illinois' Black voters as the General Assembly drafted new legislative maps. 
Dr. Luisiana Melendez was a member of the Chicago Board of Education from 2019-2022. Dr. Melendez is currently a faculty member at Erikson Institute, working to prepare educators to serve diverse children and families.
Virginia "Ginger" Hiltz is the proud principal of Maria Saucedo Scholastic Academy, a high-performing CPS Prek-8 magnet school serving the Little Village community and beyond.
WHAT: Panel Discussion
WHERE: Maria Saucedo Scholastic Academy, 2850 W. 24th Blvd
WHEN: Thursday, July 13, 2023, | 6:00-7:30 p.m. CST
All CPS stakeholders, including teachers and staff, parents, and community members, are welcome.