Our Students Can't Wait
Ensuring Equitable Access To Funding and Resources
March 2018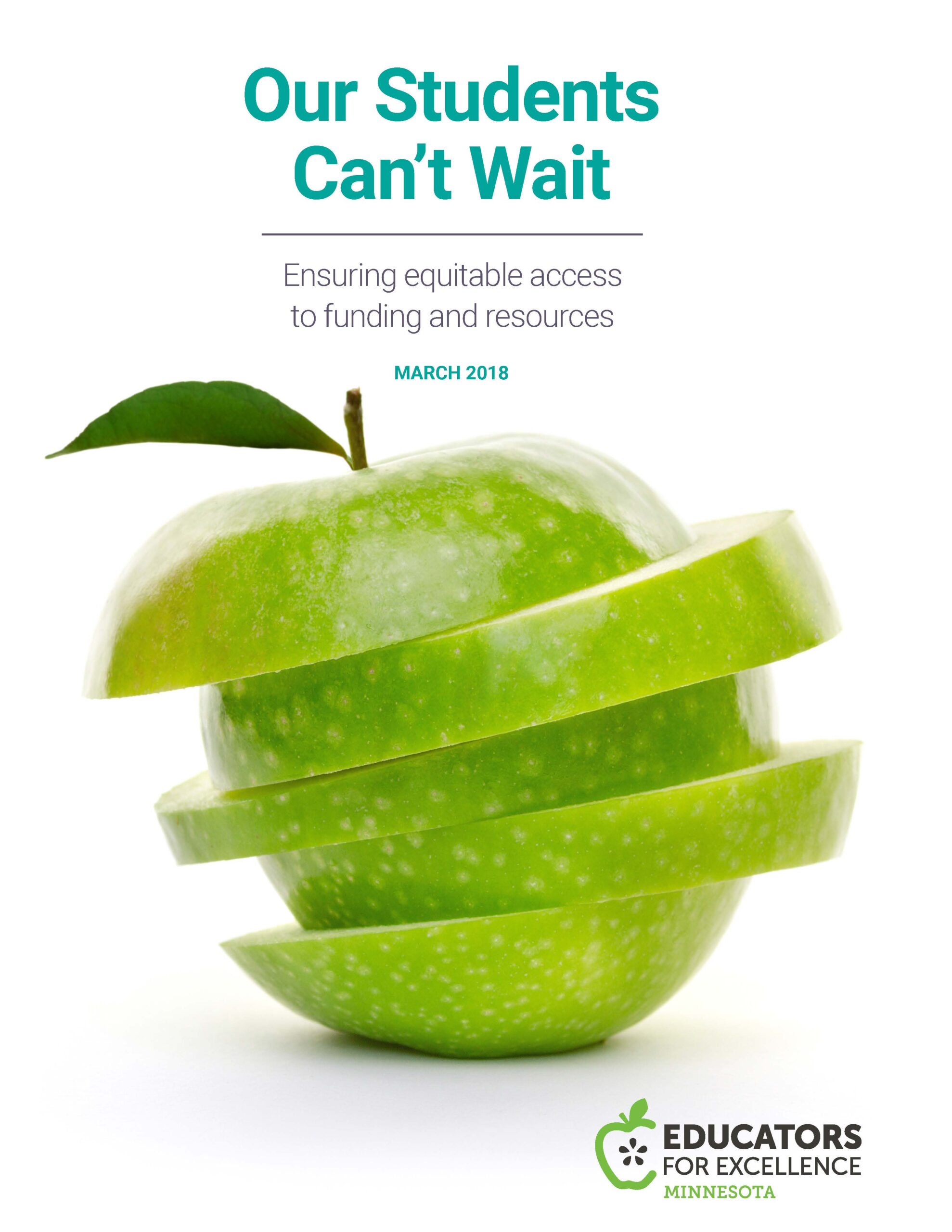 Minnesota students deserve a high-quality education, yet our schools do not have the resources to give students what they need to thrive in our classrooms and beyond. These investments are critical to student learning, as research shows that an increase in funding positively impacts student achievement. Despite using a state funding formula designed to send more money to the high-needs schools, as teachers, we know that for too many students, Minnesota's education funding system is neither adequate nor equitable.
Since state dollars are allocated to districts and not directly to schools or students, it is unclear how much of the money actually reaches the students for whom the dollars are intended. And because staff salaries constitute the largest funding allotment for a school, and teachers play a critical role in student learning, any discussion about equitable funding must account for the challenge of ensuring that all schools are equitably staffed with qualified, talented teachers.
Recommendations
Increase financial transparency
Collect and report school-level spending alongside academic outcomes and student demographics, in an accessible way that allows for comparisons among similar schools.  
Collect and report per-pupil school-level funding and expenditures including actual and median teacher salaries.
Ensure equitable access to high-quality teachers
Invest in programs or policies that seek to attract and retain effective and experienced teachers to work in high-poverty schools.
Empower principals to support teacher leaders as they develop novice teachers in way that results in high-retention rates and increased student achievement.
Incentivize collaboration and ensure equity across schools
Evaluate opportunities for district schools and charter schools to collaborate with an eye toward equitable access to resources for all Minnesota students, regardless of school type.
Explore opportunities to collaborate and engage in strategic partnerships between public charter and traditional district schools.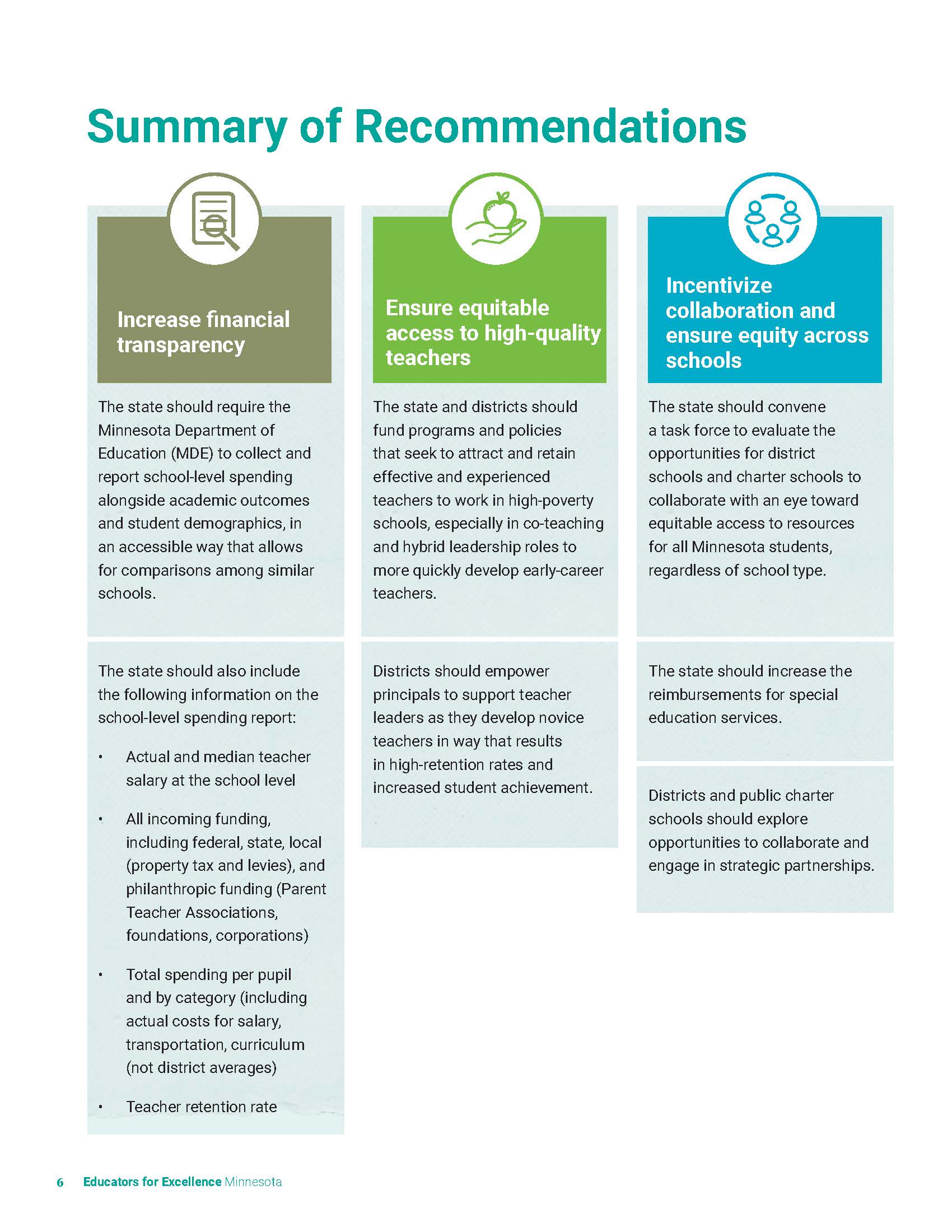 About the Teacher Action Team
We are a team of 10 teachers who met over the course of two months to review research on funding and access to resources. We looked at the current funding formula, problems, and potential solutions. As we explored solutions, we looked at case studies from across the nation, as well as promising policies and practices in Minnesota. We conducted interviews with teacher colleagues, surveyed over 100 educators, and spoke with school funding experts and other education stakeholders to gather critical information. We coupled this research with our experiences as educators to craft our recommendations for school districts and the state.
Alyssa Carlson English Learner Teacher at HOPE Community Academy
Maya Kruger 6th-grade Teacher at Aurora Charter School
Christopher Mah English Teacher at The FAIR School
Alexis Mann Special Education Teacher at Harrison Education Center
Elaine Matama Student Teacher Resident at Harding Senior High School
Elaine Morehouse Media Specialist Teacher at Brooklyn Center STEAM
Jeffrey Parker Special Education Teacher at Farnsworth Aerospace Upper
Alexandra Renken Special Education Teacher at Minnesota Internship Center
Michelle Urevig-Grilz Early Childhood Family Education Teacher at Mona Moede Early Childhood Center
Margi Youmans Social Studies Teacher at Cristo Rey Jesuit High School