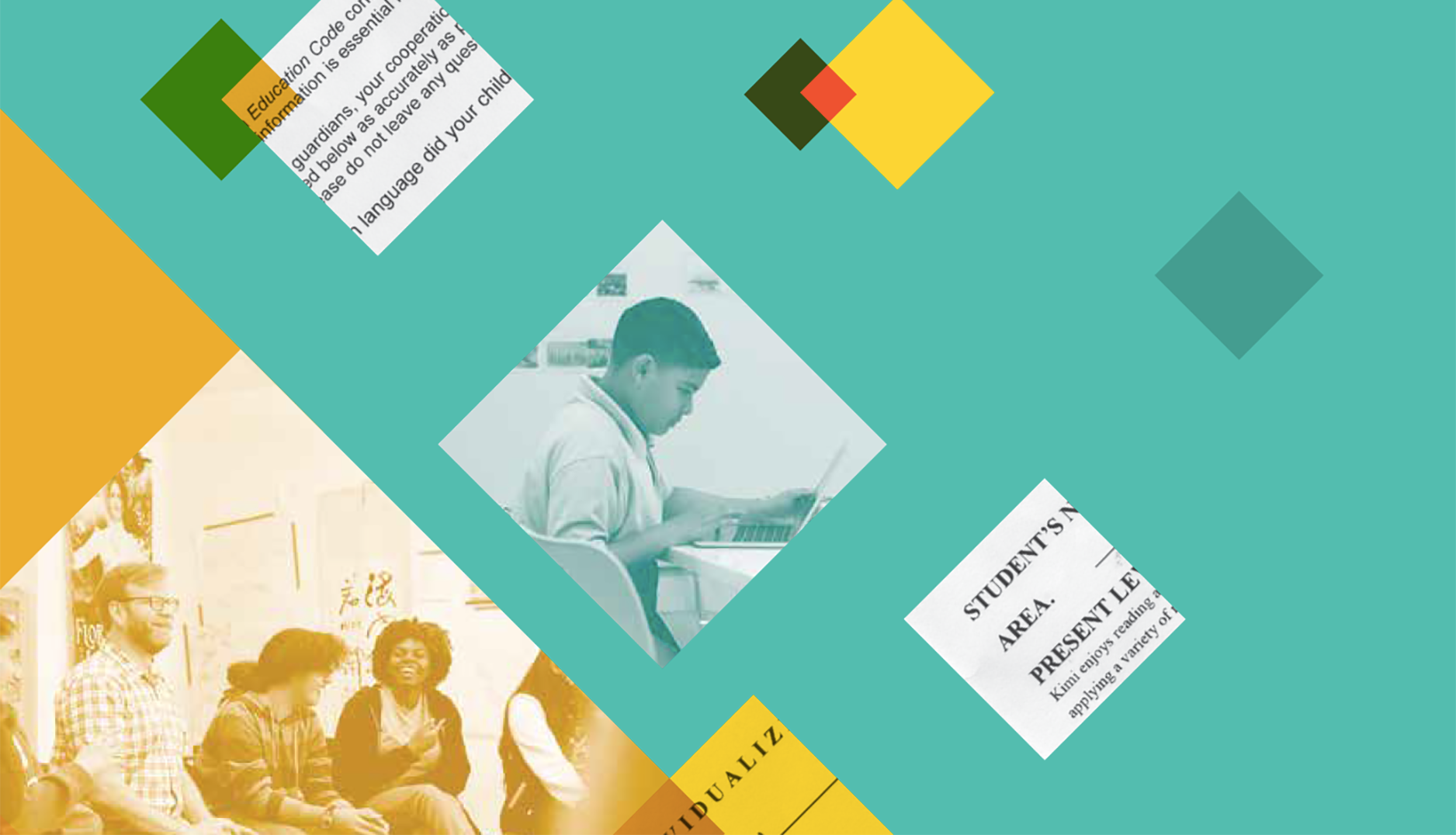 One School for All
Common Core for Unique Student Populations
May 2016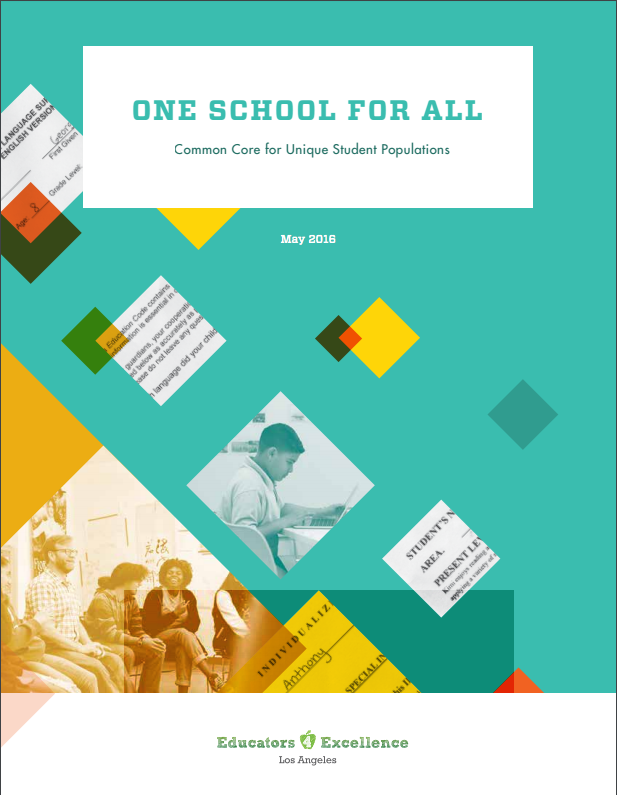 All students deserve access to great schools, colleges, careers and opportunity. Yet, the fact is our education policies and classroom practices could be doing more to reach all our students. We must make certain that all students, including English Learners and those with disabilities, who have historically been underserved, are able to thrive in the new era of Common Core.
We have a huge opportunity and moral imperative to better serve our most vulnerable students by addressing achievement gaps that fall along lines of race, income and learning abilities. In order to help students see their unique abilities as assets and not liabilities, we must bring more creative ways of thinking and solving problems into our education systems, schools and communities.
Recommendations:
District leaders should provide funding for joint professional development for general education or single-subject teachers and teachers of unique student populations.

United Teachers Los Angeles (UTLA) should advocate for more common planning time and "teaming" for teachers of special education, English Learners and general education.

The state legislature should require teacher preparation programs to develop more rigorous coursework on unique student populations for pre-service teachers.

Districts should train teacher leaders in supporting unique student populations and integrating technology to ensure district-wide equity.

UTLA should identify and communicate to its members about teacher leadership and professional development opportunities in adapting Common Core for unique students.

The California Department of Education should create and articulate a clear vision for how districts and schools should increase access to technology to better understand and serve unique student populations.

Districts should utilize family liaisons to work in partnership with teachers and administrators to facilitate family engagement and trainings that support understanding of the Common Core shifts and challenges for unique student populations.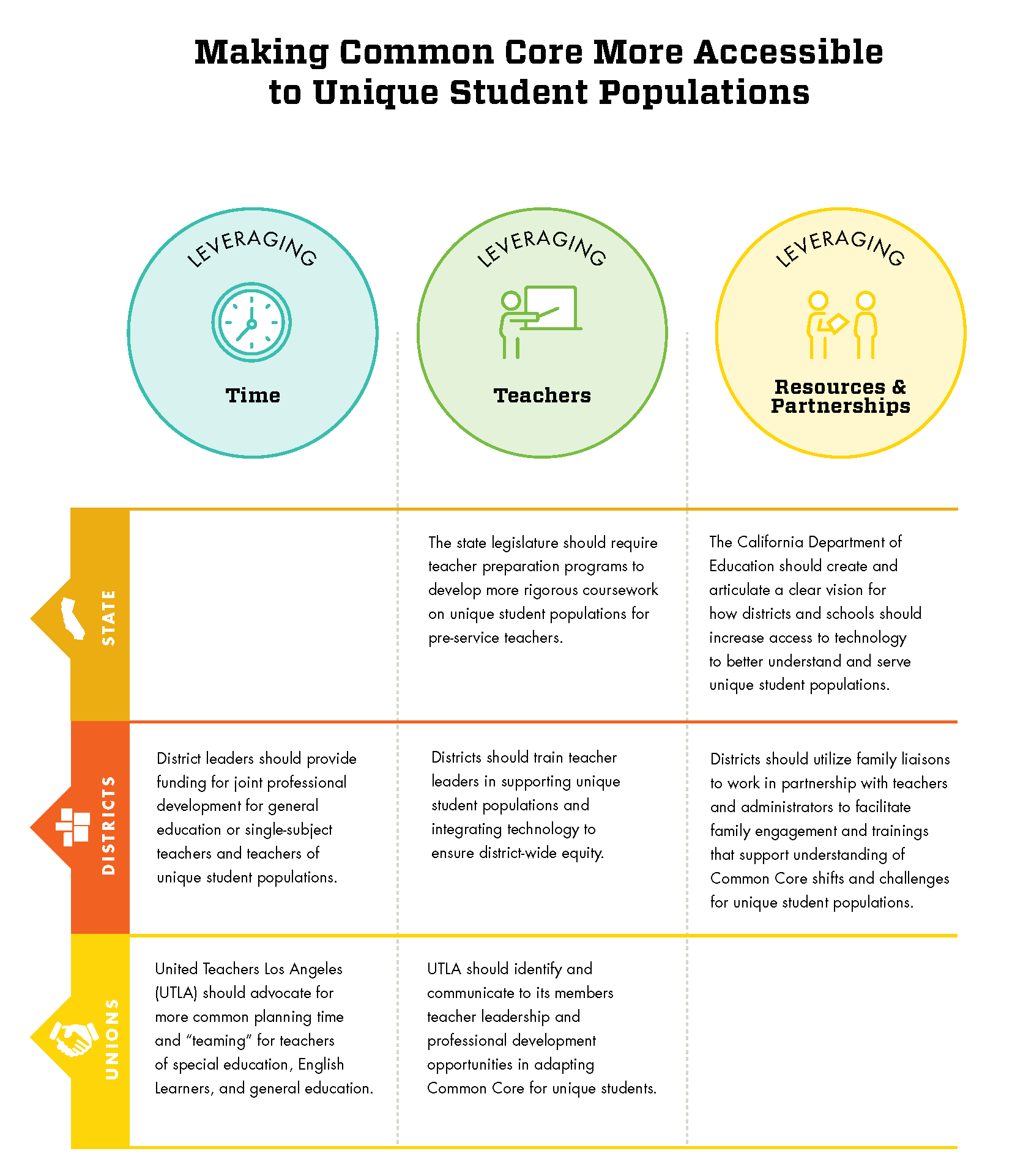 About the Teacher Action Team
We are a diverse group of 13 teachers who met for nine weeks to review both national attempts to improve Common Core implementation for unique student populations, as well as local strategies being proposed or piloted by LA Unified, Partnership for Los Angeles School, Youth Policy Institute and local charter networks. We also surveyed more than 430 E4E-Los Angeles members and non-members to understand the most essential strategies for improving Common Core implementation for unique student populations.
Bianca Centeno Inclusion Specialist at Nueva Esperanza Charter Academy
Marisa Crabtree English and AVID Teacher at Lincoln High School
Alyssa Cuervo Math Teacher at Alliance Tennenbaum Technology High School
Linda Diaz 6th-grade English and Social Studies Teacher at Vista Middle School
Joy DuBois 6th-grade Math, Science and Technology Teacher at Van Nuys Middle School
Mario Echeverria 5th and 6th-grade English and Technology Teacher, KIPP Academy of Innovation
Misti Kemmer 4th-grade Teacher at Russell Elementary School
David Metz High School Theater Teacher at Ramón Cortines High School for Visual and Performing Arts
Nicole Orlando 7th and 8th-grade Resource Specialist at Luther Burbank Middle School
Janet Powers Prekindergarten Teacher at Charnock Elementary School
Nikki Revell 11th-grade English Teacher at Los Angeles Academy of Arts and Enterprise
Sharon Taylor Science Teacher at Fremont Senior High School
Vivian Wang 1st-grade Teacher at Broadway Elementary School