May 20, 2020
Send Teachers Love: Melissa Tellez, fifth grade teacher in LA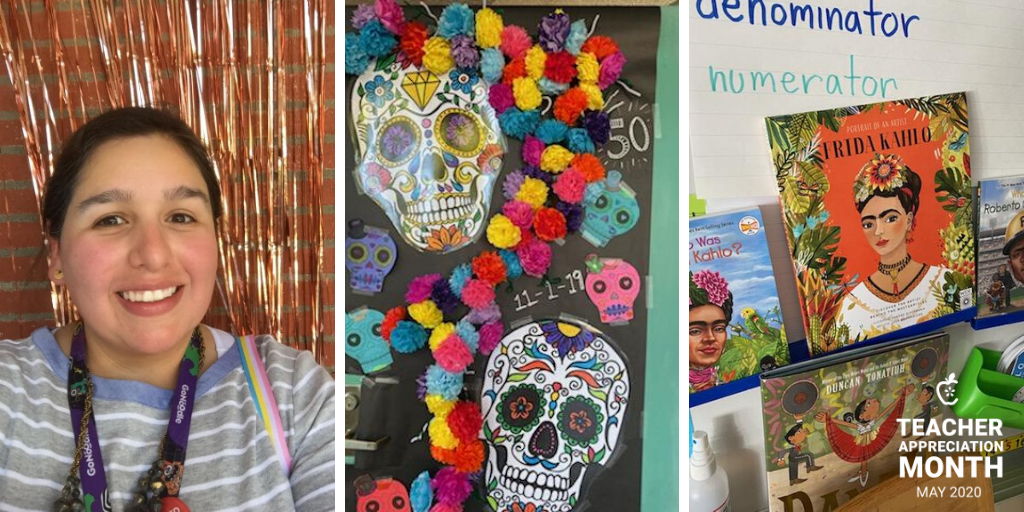 To celebrate Teacher Appreciation Month, E4E is shining a spotlight on excellent educators and the amazing work they do on behalf of their students. Today, we're recognizing Melissa Tellez, who is from a family of educators and continues the tradition by teaching fifth grade in east LA.
On a recent school day, fifth grade teacher Melissa Tellez had a full house: she was navigating her virtual classroom while her mom was on a Facetime call, her dad was on Zoom, and her sister was on and off the phone. Melissa, her parents, and her sister are all educators in Los Angeles, and they're all doing distance learning in one house during the pandemic.
As a member of a family of educators (her aunts and uncles also work for the Los Angeles Unified School District), Melissa recognizes common challenges for schools and students across LAUSD, especially during distance learning. In such a large, diverse district with so many micro-communities, she says that dual language supports are especially important. And now, finding interpretation support to communicate with families is even more difficult.
"Challenges that were always there before the pandemic, now we're trying to find a new way of addressing them," Melissa said. "We're figuring it out, but it takes time and it should be done well."
She says the transition to a virtual classroom means she's now working daily with students and their families to help everyone access technology. Parents are helping connect with other families to make sure everyone has what they need. Many students are feeling overwhelmed and stressed, making social-emotional learning skills more important than ever. 
"It's tough because we're far apart, but we're still trying to keep that sense of community and love," Melissa said.
Looking back on the school year, Melissa is proud of the progress her students have made, as well as the opportunities they have had to connect with their culture and their communities. She believes that culturally relevant pedagogy is vital to students.
"Students need to be able to view themselves and their culture in our classroom and curriculum." – #E4ELA member Melissa Tellez  
As teachers navigate the end of an unprecedented school year and begin to plan for the eventual return to school, Melissa says it's important to recognize how much of their heart and soul they put into the job.
"Teachers are like this giant sorority or fraternity of a job. We may teach in different schools but we all have this passion and drive to support kids." 
This year, honoring teachers is more important than ever. Click here to see hundreds of messages of appreciation, and join us in lifting teachers up during Teacher Appreciation Month!
Currently Reading
Send Teachers Love: Melissa Tellez, fifth grade teacher in LA