February 12, 2020
Roses are red, violets are blue…and public testimonies at the statehouse are just as romantic, too!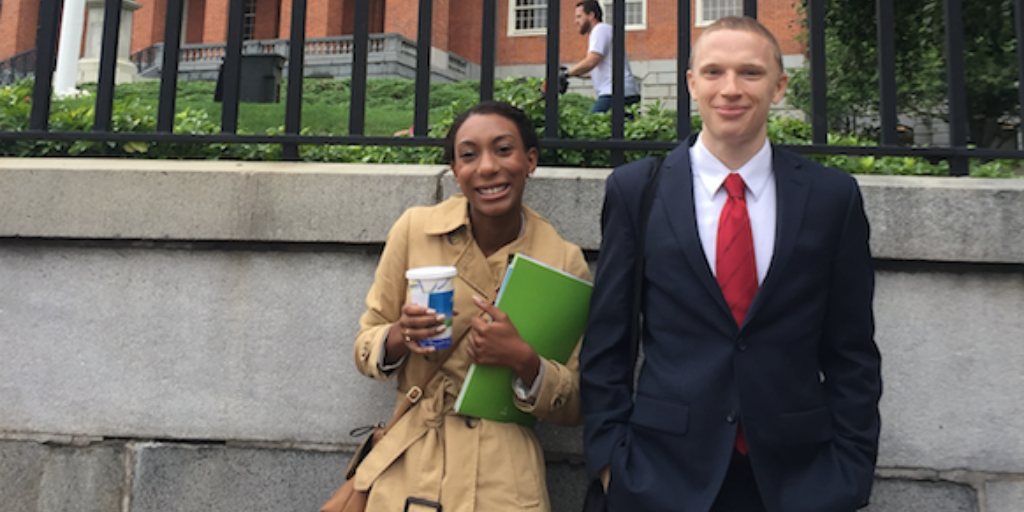 Some people use Tinder, or OkCupid, or even speed dating (well, maybe not speed dating) — but for E4E-Boston members Christina Pressley, a kindergarten teacher, and Matt Clark, high school social studies teacher, a shared passion for advocating for vulnerable student populations is what brought them together.
In the summer of 2017, the pair met for the first time before delivering compelling testimonies in front of the Massachusetts State Legislature's Joint Committee on Education in favor of increasing funds for school counselors and psychologists as part of E4E-Boston's Schools that Heal campaign. You can almost hear the Barry White in the background…almost.
Nerves aside, they both will never forget this monumental day — not only did they get to share their students' stories with elected officials — but this day was also the beginning of an unconventional love story.  
After their initial meeting, Christina and Matt got to know each other more through E4E events and began dating. And E4E initiatives are intertwined in their love story to this day. Most recently, Matt served one of the educators who helped craft the design of the 2020 Voices from the Classroom: A Survey of America's Educators and Christina moderated a discussion with Boston educators and former U.S. Secretary of Education John B. King. 
Eventually, in between teaching, events, and more, it was time for Matt to pop the question. He knew exactly where he wanted to propose — on the steps of the Statehouse where they met. Little did they know back in 2017 that an act of testifying in front of the education committee would lead them three years down the road to their own personal testimonies — marriage vows. 
 
Flash forward to present day: the couple is planning for their education-themed wedding in July on the exact date they testified at the statehouse (how cute, right?!) They will continue to share a love for helping populations in need and advocating as members of E4E — from their classrooms all the way to the statehouse. 
Congratulations, Christina and Matt! 
Currently Reading
Roses are red, violets are blue…and public testimonies at the statehouse are just as romantic, too!