July 27, 2021
E4E Teacher Board Members: We need our Unions to Lead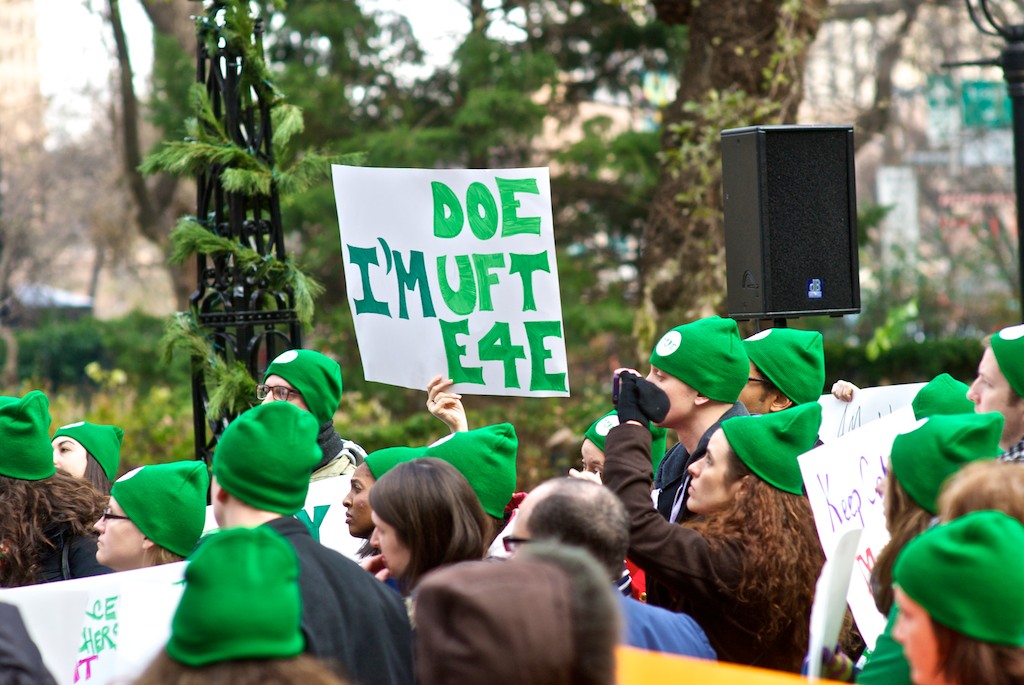 As current classroom educators, we owe labor unions and particularly teachers unions a great debt for all they have won for us. Throughout history, unions have supported marginalized workers against the greater forces of power and privilege in capitalist systems. Thanks to our predecessors in the labor movement, we have access to healthcare, pensions, and improving pay, as well as protection from capricious management decisions that affect our livelihoods. And thanks to our current teachers' union leaders who boldly fight today, educators and our students have safer working conditions, and school reopening standards that prioritize the health of teachers and students alike. 
Today, our unions are powerful in part because the public knows our actions are instrumental to student success: their learning, their emotional and physical health, their access to resources, and their right to be accepted as who they are. From collective bargaining and political endorsements to influencing the narratives and cultures within our schools, our teachers' unions have the opportunity to continue to shape our education system for the better. That's why we commit to strengthening our unions, so they can leverage their power and influence to bring about the changes our students need. How, and to what ends, our unions leverage their power matter tremendously to our profession, to our students, and to the broader communities we serve. 
We need teachers' unions that represent us well and reflect the great diversity among our ranks that is our strength. It is up to us, their members, to guide them forward. We recognize that our unions have been complicit, if not active, in perpetuating racism and oppression within the school system as well as within the union itself. We have seen our unions defend ineffective educators, racist policies (i.e. licensure, job placement, layoff, and student discipline policies, as examples), and biased systems, rather than our students. Too often, we have seen our unions defend inequitable educational conditions, oppose innovative practices, organize using divisive and fear-based tactics, and otherwise obstruct progress rather than embrace opportunities for change. We have felt strong-armed and scrutinized by our own union leaders when voicing dissenting opinions. We and our colleagues have run for elected office within our unions only to see leaders employ the same undemocratic and unfair practices (i.e. limiting voting, providing incumbents but not challengers access to member information, etc.) that they critique in public electoral processes. In the broader national landscape where voter suppression efforts are being made by elected leaders, our unions must model what democracy should look like. Our unions can and must do better than this.
In the wake of the Covid-19 pandemic, we cannot return to the way things were. We must seize this opportunity to innovate and address long-standing inequities in our schools. We all have a responsibility to ask hard questions about the role we play in perpetuating systems of racism and oppression and question long-held presumptions about the status quo. We believe our unions can rise to meet the demands of this moment. This is already happening in some places—like Hartford, Boston, and Baltimore—where union leaders are taking bold steps to make our schools better and more equitable for teachers and students alike. 
Some may say efforts to push our unions forward are misdirected because of the great weight unions already bear, but it is exactly because of our deep belief in what is possible through organized labor that we hold such hope. We reject the "all or nothing" thinking that silences thoughtful critique as anti-union. We believe it is incumbent upon people of good conscience to fight for righteousness and justice within all institutions—recognizing and eradicating racism and inequity where we have the power to do so. And as teachers, we do have power within our own unions. 
It is within this context that we are excited to launch a vision for how our unions must advance the fight for educational equity by being more democratic, student-focused, anti-racist, and engaged in elevating the teaching profession. We call upon our fellow members and union leaders to work together towards this vision in solidarity with our students.
E4E Board Members,
Freeda Pirillis: IB PYP Teacher and Coordinator at Agassiz Elementary in Chicago,
Arthur Everett: 12th-Grade Teacher at the High School of Telecommunication Arts and Technology,
Mike Loeb: Middle School Math, ELA, and Social Studies Teacher to Students With Special Needs in the Bronx
Currently Reading
E4E Teacher Board Members: We need our Unions to Lead