March 25, 2020
Chalk Talk: Ryan Brown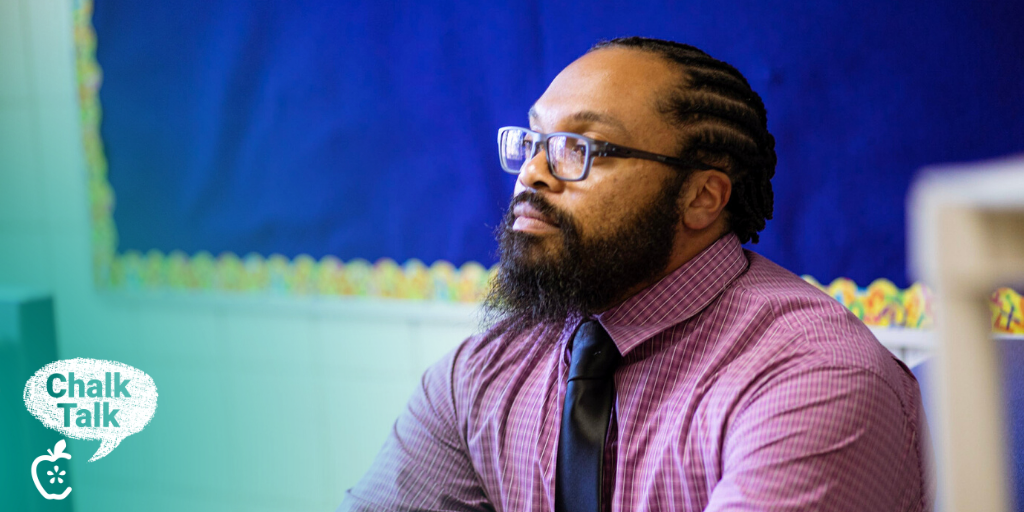 As a basketball and flag football coach for the city, Ryan travels to other districts and sees classrooms with ample resources that aren't readily available to his students. Every student has a Chromebook. Every teacher has a smartboard. And the list goes on and on.
Yet this difficult reality is not unique to only Ryan's district — districts all over the nation face inequity in resources and funding, particularly those in high-poverty areas like Bridgeport. In fact, about two-thirds of teachers say inequitable access to classroom supplies and resources, and seven in 10 teachers say inequitable funding is a problem within their district. And now with school closures across the map due to COVID-19, inequity among districts is even more blatant.
While Ryan helps his students transition to remote learning by guiding them through math print-out packets through email and phone, he reflects: Why is this move to remote learning so difficult in the first place?
"Students should always have equal access to learning resources, no matter where they live," says Brown. "The states or federal government haven't done enough to create access to educational resources for urban or low socioeconomic areas, and it shows."
"Students should always have equal access to learning resources, no matter where they live," says Ryan Brown, #E4ECT member on remote learning during #covid19
He's heartened to see during this transition period companies are stepping up to the plate by offering WiFi hotspots and districts like his own are now finding ways to give students access to take-home laptops. But Ryan still thinks under-resourced school communities need to be a bigger priority every day of the year.
"If a family generally has a hard time paying for internet and technology in their household, why isn't that enough for students to have year-round access to the internet at home to learn, just like those families that can afford to pay for these resources every month?" says Brown.
For Ryan's students, such resources can go hand-in-hand with the effectiveness of instruction, as many rely on direct instruction and have a wide range of abilities. He worries that this pause in learning will only widen the achievement gap for his seventh-graders, considering Connecticut has the nation's second-largest in the gap in math between students from low-income families and their classmates.
"It could be like this year didn't really happen," says Brown. "My students are currently learning the meat of algebra and geometry, which are foundations for other grades."
#E4ECT member Ryan Brown expresses worry that students will miss out on fundamental concepts that build up in  the next grades during #covid19 remote learning, putting vulnerable students at even more of a disadvantage
And since other students — all the way back to kindergarten — may lose out on practicing fundamental reading and math concepts, the cycle will only perpetuate as these students move through grades in the coming years.
For the time being, Ryan and the families he's working with are treading muddy waters, as there's a clear digital divide. For students without access to appropriate resources, Ryan is asking them to text him photos of each paper of their packet, so he can guide them through feedback.
"Everyone's still trying to figure it out and we have to trust the process a bit until we can find out a way to build a bridge."
And once they build that bridge, Ryan doesn't think districts should disregard the innovation teachers are working up, as well as the need for access to more resources when schools are deemed safe to reopen. There's a silver lining.
"Nationwide, we have students who are truant, out for medical reasons, snow days, and more," Brown says. "If we can figure out how to reach students in a time of need, we shouldn't stop. At the end of this pandemic, many students will still be at a disadvantage and need access."
As for all teachers trying to navigate this new normal, Ryan says to practice patience and remember, "We'll soon be pros. It's kind of like teaching your first year. You were always good. You became even better, and nothing can really stop you."
As teachers trying to navigate #covid19, #E4ECT member Ryan says to remember, "We'll soon be pros. It's kind of like teaching your first year. You were always good. You became even better, and nothing can really stop you."
Spread the Word