November 5, 2019
Chalk Talk: Meghan O'Donnell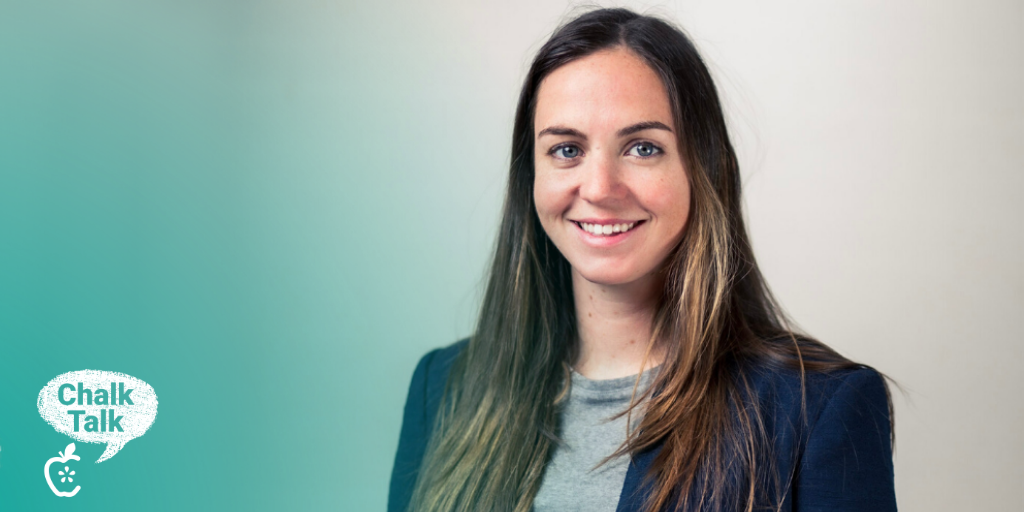 As every new school year begins, there is a mix of emotions that teachers feel as they await their new crop of students: excitement, joy, pride, and the pluck required to get back in the game.
But many teachers also recognize a sense of frustration, in a large part because they know a lot of their kids won't enter the classroom with the grade-level skills they need to hit the ground running, especially if they live in a low-income community. Oftentimes, teachers can tell which neighborhood schools or colleagues' classrooms students attended based on their emotional and academic proficiencies (or lack thereof).
That's no different for kindergarten teachers, according to Meghan O'Donnell, who teaches English-as-a-second-language at the elementary level in Minneapolis. She knows from years of experience that students who didn't attend an early childhood education (ECE) program begin their academic career at a huge disadvantage.
It's kind of like trying to teach multiplication to a kid who hasn't learned to add yet. Oh yeah, and also they've never even been in a school before. And they don't know why they're crying, or how to stop.
Megan feels lucky that her elementary school is able to offer high-quality ECE programs on-site, as that can make all the difference.
"You can clearly tell how has been in our on-site preschool and who has not. On day one they walk into the classroom ahead of their peers." -#E4EMN member Meghan O'Donnell on #earlyed
"You can clearly tell how has been in our on-site preschool and who has not. On day one they walk into the classroom ahead of their peers. Not only do they have a much greater understanding of academics, knowing what words or sentences are, for example, but they also have the emotional tools to thrive in a classroom environment. Students that don't go through early childhood education end up having a lot more to learn in a small amount of time."
At the early ages of four or five, when kids are first learning how to recognize their emotions, social-emotional learning can be a vital prerequisite for academic learning.
"Our students can't do well if we don't first meet their emotional needs. But teachers are hard-pressed to find the time to work on those skills, whether it be in kindergarten, first grade, or high school, so if they don't build these skills early they are likely to flounder year after year."
But Meghan's students who attend her school's preschool program are set up to rock their formative year in education. And so are their new teachers.
"When kids attend our ECE, we can connect with their teachers to learn about their strengths and the best strategies to help them grow. And my colleagues and I spend less time having to learn how to meet their needs by trial and error throughout the school year. Just as a seventh-grade teacher picks their sixth-grade teacher's brain on how they got a kid to see the value of learning math, we kindergarten teachers need to know how to best serve our unique youngsters."
So if society seriously wants to close the achievement gap, then they need to get serious about providing the preschools that make sure the gap never starts.
Share Meghan's story on Facebook and Twitter!
Currently Reading
Chalk Talk: Meghan O'Donnell