April 7, 2020
Advocacy in the Age of Coronavirus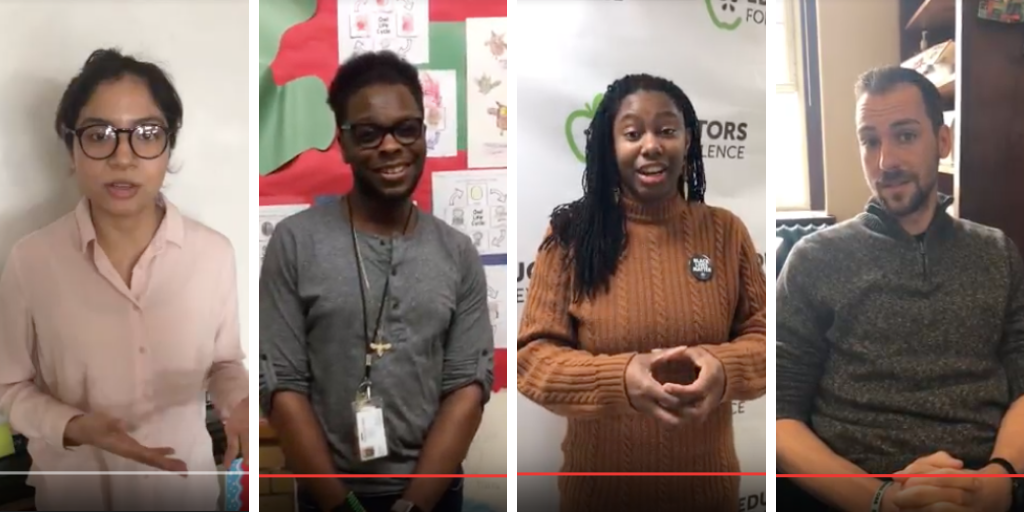 The coronavirus pandemic has impacted everyone around the world, including E4E-Boston teachers. A group of educators that had been advocating for a more positive school culture in Boston Public Schools suddenly had to change course when schools closed and gatherings were cancelled. As teachers, though, they knew how to roll with the punches.
Just like when their lessons don't go according to plan, these educators regrouped and figured out a new path forward.  
What kept them going was the knowledge that the systemic racism and inequities impacting their students are only becoming worse. Boston teachers don't let anything stand in the way of fighting for the best for their students, not even the coronavirus. 
The E4E-Boston group quickly sprang into action to adapt their campaign strategy and chose a virtual meeting of the Boston School Committee as the place to make their voices heard. They recorded or signed up to deliver video testimony. They put together a text thread with E4E-Boston staff to quickly share information during the crucial meeting. Meanwhile, another group of educators set up an additional meeting with the Vice-Chair of the Committee and used Twitter to conduct outreach to additional key decision-makers.
"This recent crisis has made clear that every school needs to have someone to bring together communities and schools in partnership." — E4E-Boston member Aded Abioye urges the Boston School Committee to fund a family liaison at every school
While the School Committee is still making their final decision on this issue, E4E-Boston learned a lot about virtual organizing and advocacy. Armed with this new knowledge, they're taking their virtual efforts to the next level and hosting a town hall event on April 17 at 11:30 a.m. called Teach-In: Equity & Excellence During & After COVID-19. Media, decision-makers, and educators will all gather to discuss the equity issues remote learning has exacerbated and share what they and their students will need to return to normalcy and restore damage from the pandemic. 
While we won't know when the crisis will end, E4E-Boston teachers know that advocacy now will ensure students and schools are ready to hit the ground running when it does.
Anyone interested in attending the Teach-In is encouraged to RSVP here.
Currently Reading
Advocacy in the Age of Coronavirus