As classroom teachers, we know that even as our training experiences vary from traditional to alternative certification, one aspect among them is common: quality preparation is critical, yet not consistently received. Too many teachers enter the classroom feeling ill prepared for the challenges of teaching – whether those challenges are classroom management, content expertise or pedagogical strategies. Teacher preparation programs are failing to prepare us for success. According to the American Federation of Teachers, one in three new teachers do not feel prepared on their first day of teaching. Furthermore, approximately 50 percent of new teachers leave the profession within five years.
We and our peers want more rigorous and effective preparation. We call on schools of education to upgrade their programs to enable teaching candidates to want it, learn it, live it and prove it. And we call on our local and state governments to expect and demand better training and create incentives for these changes to be made.
Recommendations:
Raise the bar for entry into teacher preparation programs by setting GPA and GRE requirements and screen candidates for soft attributes, like organization and perseverance.

Collect and publish data from teacher preparation programs on alumni feedback, retention and effectiveness in the classroom.

Emphasize tangible and applicable classroom practices for student teachers, taught by an instructor who has demonstrated effectiveness in the classroom.

Pair prospective teachers with experienced, highly effective cooperating teachers for one year and have the chance to observe a wide variety of classroom settings.

Require prospective teachers to demonstrate their readiness to teach by proving their effectiveness in the classroom through a series of formal assessments, including a standards-aligned examination.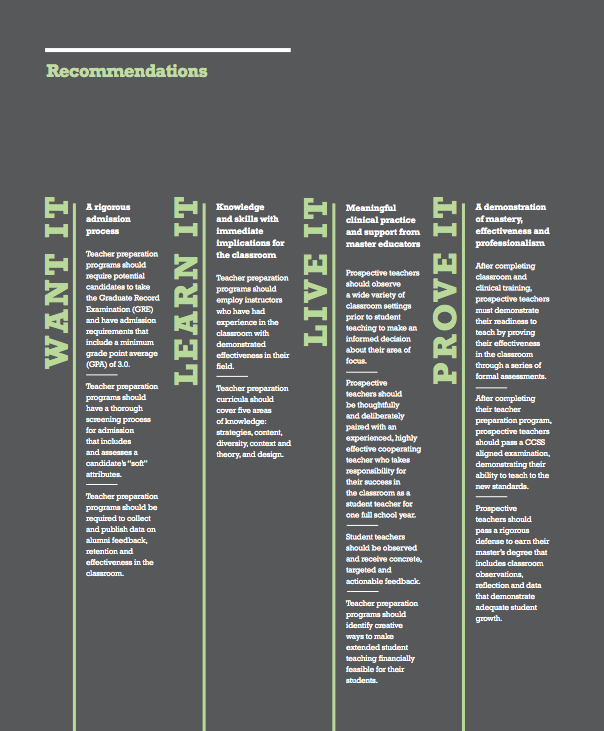 About the Teacher Action Team
We are a team of 17 teachers who met over two months to review research on different models of teacher preparation, as well as local strategies. Additionally, we hosted conversations with leaders from New York State Department of Education, The New Teacher Project (TNTP), Teach For America, The City College of New York, Columbia University, Bank Street College of Education and other teacher preparation education experts. Our Policy Team conducted peer and administrator interviews to gather critical stakeholder feedback and surveyed 170 E4E members and nonmembers to understand the most essential strategic components of a teacher preparation program for teachers.