Between 2008 and 2016, Chicago Public Schools (CPS) made a dramatic shift in the way teachers were evaluated and supported. Beginning in 2008, CPS piloted the Excellence in Teaching Project, a more robust evaluation system that was the first step in moving beyond the rudimentary checkboxes that failed to delineate great teaching or to provide meaningful feedback to teachers and administrators.  In 2010, Illinois followed with the Performance Evaluation Reform Act, which overhauled teacher evaluation throughout Illinois. That same year, CPS introduced a teacher evaluation system tied to student performance known as Recognizing Educators and Advancing Chicago's Students (REACH).  
Overall, as Chicago teachers, we have had mixed experiences with  REACH. For many of us, feedback on our practice is limited to only two formal observations a year. Furthermore, we only receive summative scores, with very few checkpoints for feedback on how to improve those scores. The punitive nature of the process has also discouraged some of us from seeking feedback on the areas of our practice we would most like to improve. We strongly desire an evaluation system that encourages authentic feedback and provides the space for thoughtful reflection on goals, expectations, student achievement and data.
Recommendations:
Develop a more flexible teacher evaluation system, including mini-observation options for consistently highly-rated teachers.

Leverage REACH to promote teacher growth through collaboration through non-evaluative peer mentoring and coaching and hybrid roles for teachers.

Align REACH to professional development and train principals to identify ways to find better alignment.

Ensure timely feedback, emphasizing the importance of post-conference feedback and providing summative feedback before summer break.

Expand evidence and reflect on best practices, possibly through evidence-based portfolios and libraries of exceptional work.

Differentiate approaches to teacher evaluation with supplementary guidance for observers to use in different classroom contexts and for differentiating performance tasks.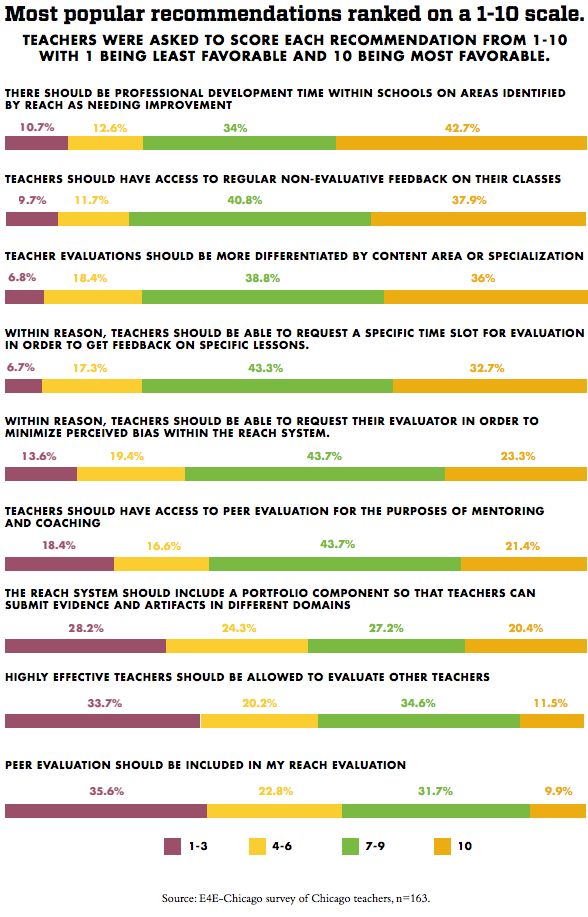 About the Teacher Action Team
We are a diverse team of 12 CPS teachers. We collected more than 150 teacher surveys and held more than 20 focus groups attended by more than 200 CPS teachers to gather critical feedback on our recommendations. We also interviewed school administrators to better understand the challenges that evaluators face with REACH and ensure that our recommendations took those concerns into consideration.