Digital Toolkit & Resources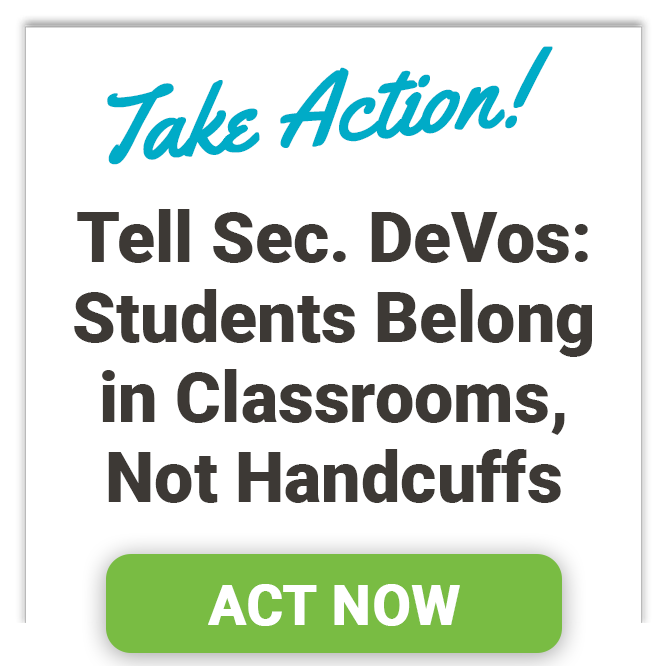 Students should be in class, not handcuffs. Yet millions of students are removed from classrooms each year for minor misbehavior, and the data clearly show that students of color and students with disabilities are suspended at much higher rates than their peers. Once suspended, students are more likely to drop out of school and be incarcerated.

The progress we've made dismantling the school-to-prison pipeline over the last few years could be stopped dead in its tracks if U.S. Secretary of Education Betsy DeVos rescinds guidance that helps teachers address student discipline without discriminating.

Some politicians have incorrectly blamed gun violence in schools on this federal guidance, and now DeVos is even closer to rescinding it. This guidance helps teachers and schools reduce exclusionary discipline like suspensions. As an alternative, the guidance encourages proactive approaches to address the causes of misbehavior and hold students accountable in the inevitable cases when students make the wrong choices, known as restorative practices.

Rescinding this guidance would be a major setback for students, and for teachers who are committed to implementing evidence-based strategies that address the root causes of student misbehavior and ending discipline disparities in our schools.

Secretary DeVos recently met with six E4E educators who urged her to protect the guidance and keep students in class, not cuffs. But she must hear from you too! Use the tools below to urge Secretary DeVos to keep this crucial guidance in place.
Take Action!
Spread the Word!
In the News
Government Watchdog Finds Racial Bias in School Discipline
By Erica L. Green of the New York Times
School discipline summit sparks transparency concerns
By Caitlin Emma of Politico
Government watchdog report finds racial disparities in school discipline practices
By Juana Summers of CNN
DeVos Meets With Supporters, Critics of Discipline Rules as GAO Says Racial Disparities Persist
Via Education Week by Evie Blad
Students of color and special needs are disciplined at higher rates — we can fix that
By E4E-Minnesota Member Charise Powell
Betsy DeVos Mulls The Fate Of Guidance Designed To Reduce Racial Bias In Schools
By Rebecca Klein of HuffPost
Minneapolis teacher weighs in on federal review of discipline policy
By Solvejg Wastvedt of MPR News
Black students still disciplined more often, more harshly than white peers, report says
The Dallas Morning News
E4E Educators Meet with Secretary DeVos and Urge Her to Uphold Discipline Guidance
E4E Press Release
DeVos meets with backers of controversial Obama school discipline policy
By Mel Leonor of Politico
Washington Still Hasn't Gotten the Message That Our Schools Need Restorative Practices
By E4E-New York Member Tianitha Alston
The Office for Civil Rights Needs to Listen to Teachers Like Me on School Discipline
By E4E-Chicago Member Tynisha Jointer 
Do I Really Have to Say That Suspensions Hurt Kids
By E4E-Los Angeles Member Christina Kim
Practice to Policy: Educators Urge Students to Stay In Class, Not Cuffs
By E4E-Boston Member Nina Leuzzi
School Discipline Debate Centers on Benefits, Consequences of Federal Guidance
Via Education Week by Evie Blad
Teachers Are Ready to End the School-to-Prison Pipeline But They Need the Trump Administration's Help
By E4E's Evan Stone and the Education Trust's Dr. Lillian Lowery
Teacher Voice Podcast: In Class, Not Cuffs Episode
The latest episode of our #TeacherVoice podcast features interviews with E4E members Misti Kemmer & Tynisha Jointer about the importance of preserving the 2014 school discipline guidance that helps public schools address student discipline without discriminating.
E4E teachers speak out against rescinding the discipline guidance
By E4E members Tianitha Alston, Cristina Benz, Olinka Crusoe, Christopher Fers, Leton Hall, Melissa Dorcemus, Rachael Goeler, Chiquita Jenkins, Stephanie Pottinger, and Gage Salicki
Download Graphics