In passing the 1965 Elementary and Secondary Education Act (ESEA), the federal government took bold action to increase opportunities for all American students through a clear commitment to more equitable educational opportunities. 
We believe that the Every Student Succeeds Act, which is the most recent reauthorization of ESEA, is both an opportunity to provide a more equitable education to students and a chance to empower teachers as partners in policy-making. 
Featured action
Investments in school and teacher leadership are key to supporting student achievement. Yet the current federal budget would eliminate funding for the very part of the Every Student Succeeds Act that provides for these activities. Tell Congress to fully fund Title II, Part A — contact your member of Congress now.
A legacy of educational equity
ESEA was signed into law in 1965 by President Lyndon B. Johnson as one component of his War on Poverty legislation. Its original intent was to ensure equal access to a quality education for all students. 
In 2001, President George W. Bush signed the No Child Left Behind Act (NLCB), a reauthorization of ESEA that compelled states to measure student achievement through annual assessments and to disaggregate that data--bringing to light large racial and economic achievement and opportunity gaps. In 2011, the Obama Administration offered states the opportunity to apply for NCLB waivers if they adopted higher standards, teacher evaluation incorporating student outcomes, and school turnaround interventions.
President Barack Obama worked with Congress to pass the Every Student Succeeds Act (ESSA) in December 2015. The new law goes into effect during the 2017-18 school year.
How ESSA affects classrooms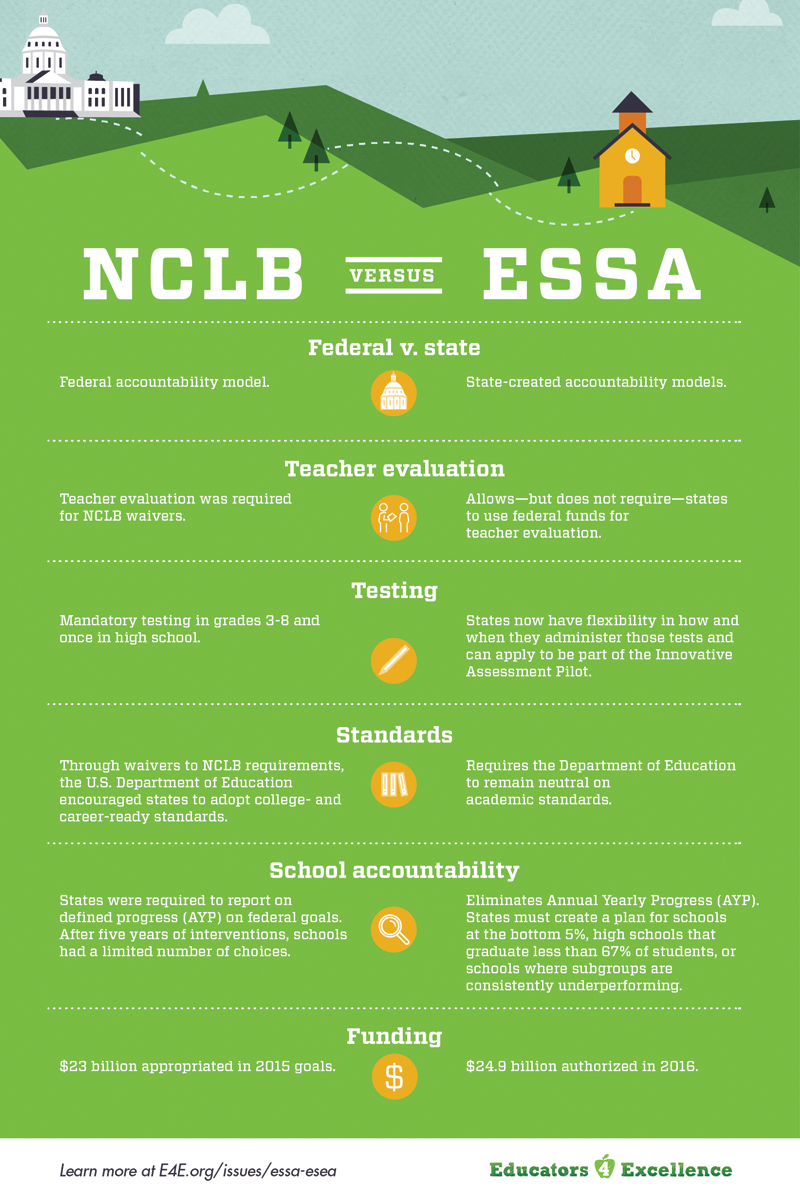 As states transition to ESSA, several opportunities exist for educators to have a voice in policies that affect traditionally underserved students. These include:
Teacher evaluation: As federal oversight of teacher evaluation ends, teachers have the opportunity to help design or amend their local teacher evaluation systems.

State standards: The U.S. Department of Education is required to remain neutral on standards under ESSA. Nonetheless, teachers can discuss their questions, concerns, and recommendations regarding their state's standards with their state departments of education.

Testing: States must continue to test students in reading or language arts and math annually in grades 3-8 and once in grades 10-12, and in science once in grades 3-5, 6-9, and 10-12. However, states will now have flexibility in how and when they design and administer those tests and can cap the time spent on testing.

School accountability: States can decide how schools should be held accountable for serving all students.

Support for schools with achievement gaps: Local educational agencies are required to develop a support and improvement plan for struggling schools in consultation with local stakeholders—which includes teachers, administrators, and parents.

Professional development: Federal funds for professional development can be used for new purposes, such as peer-led, ongoing professional development that is job-embedded and evidence-based.
Our Recommendations
In October 2015, the ESSA Teacher Action Team of working classroom teachers published "From the Classroom to Congress: ESEA Policy at Play," which shared priorities from the classroom for Congress to take into account. Specifically, the teachers on the team called on legislators to:
Avoid diluting Title I dollars for high-poverty schools,
Strengthen school accountability for traditionally underserved students, and
Elevate teaching and promote teacher leadership.
Our Response
Final regulations incorporate public comments from E4E to address accountability standards, public reporting and state plan provisions of the Every Student Succeeds Act (November 30, 2016).
Draft Title I regulations from the U.S. Department of Education demonstrated a commitment to preserve the original purpose of Title I: To increase equity by targeting federal resources on schools with large populations of students in poverty (August 31, 2016).
The ESSA Teacher Action Team submitted comments to U.S. Secretary of Education John King regarding proposed assessment regulations (August 30, 2016).
In response to proposed accountability regulations for ESSA, the Teacher Action Team sent the following letter to U.S. Secretary of Education John King highlighting opportunities for teacher voice, resources and improved school climates (August 1, 2016).
ESSA has the potential to elevate teaching and promote teacher leadership—with the right guidance on how to strategically recruit and retain teachers. The ESSA Teacher Action Team called on the U.S. Department of Education to prioritize key steps for professional development (May 25, 2016).
The ESSA Teacher Action Team highlighted ways to leverage opportunities within ESSA relating to accountability, funding, communication, school climate, teacher quality and teacher equity plans, and teacher input (January 21, 2016).