Although Massachusetts schools rank among the best in the nation academically, they are plagued by some of the largest opportunity gaps for students from low-income families and students of color.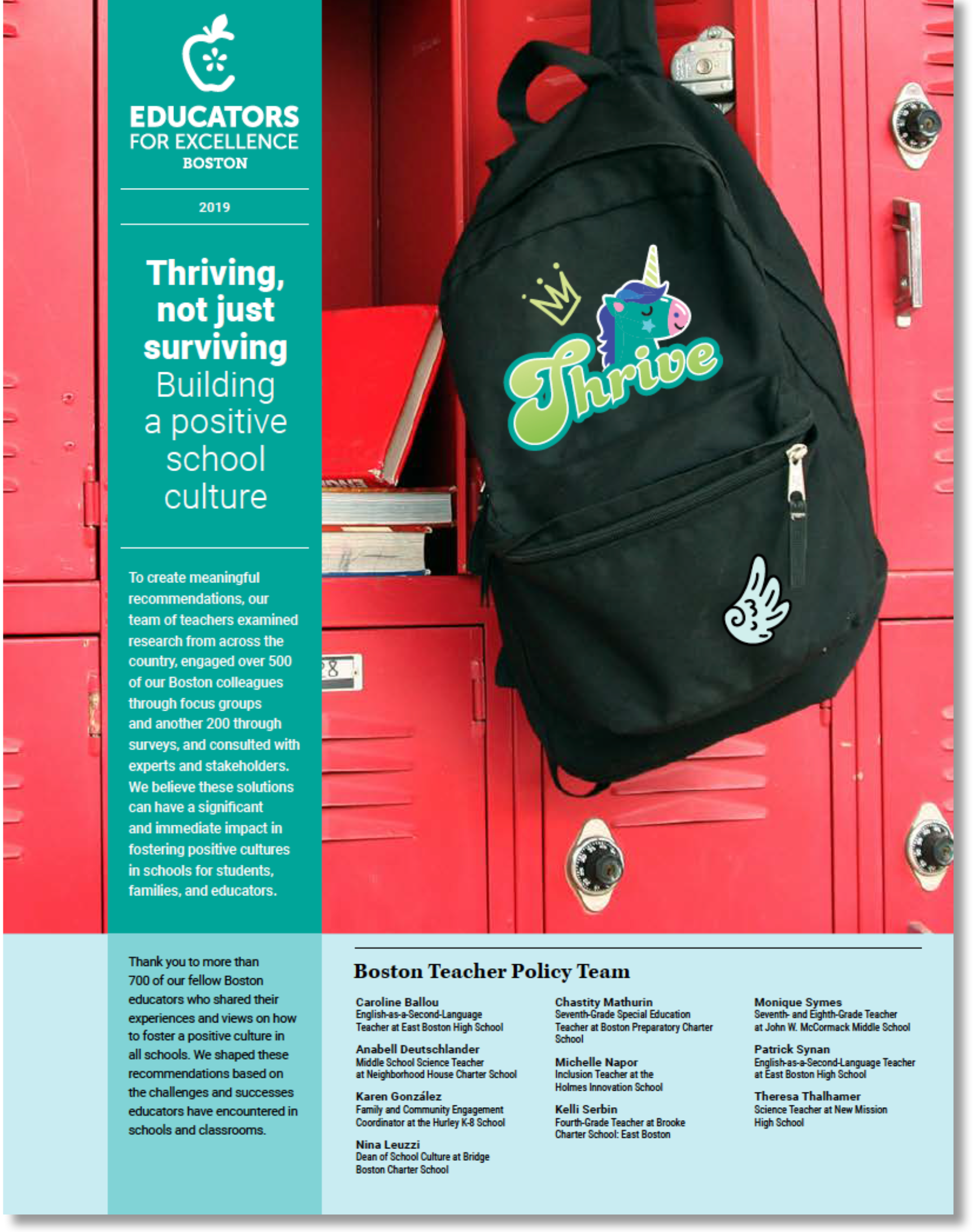 Any educator can tell you why: Students and teachers need safe, welcoming, and engaging schools in order to thrive.
In the policy paper Thriving, Not Just Surviving, Boston educators called for reducing the use of exclusionary disciplinary methods in favor of restorative justice practices in order to build safe campus communities with stronger bonds of trust.
---
Take Action
This school year, E4E-Boston members are urging Boston Public Schools to give educators and students the resources they need to fully implement restorative justice programs throughout the district. Urge the Boston School Committee and other education leaders in Boston to support increased funding for restorative justice.
---
What Educators Say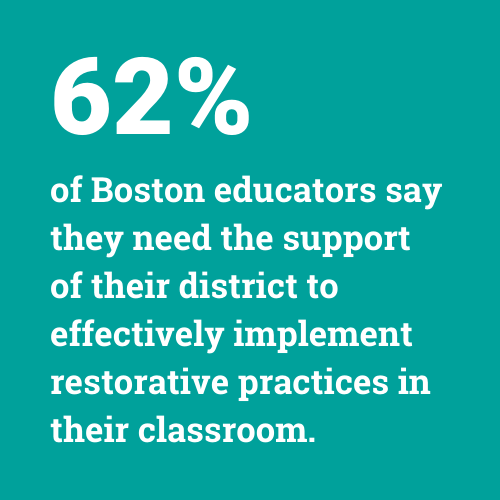 According to E4E's 2018 national teacher survey, 64% of teachers nationwide believe that restorative justice is an effective discipline strategy, far outranking exclusionary methods like expulsion or suspension. However, according to a new survey, 62% of E4E-Boston educators say they need the support of their district to effectively implement restorative practices in their classroom. 
In an op-ed published on The 74, E4E-Boston member Claudette Kerr shares that restorative justice and other alternatives to suspensions "that focus on addressing the cause of misbehavior through leveraging relationships lead to lasting change, all while holding students accountable."
---
Get Involved
To make meaningful change, we need to show up numbers that can't be ignored. Join us at a Thriving, Not Just Surviving event and lend your voice to our campaign.
Host a Restorative Justice House Party!
At the house party, an E4E staff member will share information with a group you cultivate about what restorative justice is and how it can benefit students and teachers, while also providing training on some basic restorative practices. You'll also have an opportunity to help advance the campaign and make restorative justice accessible to all.
---
Spread the Word
Can't make it out to one of our events? Support the Thriving, Not Just Surviving campaign by sharing one of the messages below on social media.
Facebook and Instagram
In Massachusetts, out of school suspensions are almost five times higher for black students than white students. Latino students are suspended three times higher than white students. Restorative justice, a social-emotional learning tool that proactively focuses on relationship building to enhance student agency and competency, can help close the racial discipline gap by creating community and open discussion. With a fully-funded restorative justice program, we can reduce reliance on suspensions and other exclusionary disciplinary methods. Urge the Boston School Committee to increase funding for restorative justice resources now! https://bit.ly/2kcbmoK
Twitter
Educators overwhelmingly prefer restorative practices over suspensions and expulsions. Urge the Boston School Committee and other education leaders in Boston to support increased funding for restorative justice.


According to @USGAO, black students makeup 16% of all public schools, but account for 40% of suspensions. Urge the Boston School Committee to disrupt this racial discipline disparity by providing more resources for restorative justice.


Across the country, the numbers are clear: restorative justice improve schools. Oakland, CA has seen a 60% increase in graduation rates since implementing RJ and Denver, CO absences are down 50%. Tell the School Committee we need restorative justice in Boston, too.