New York City public schools educate some of the most diverse students in the country - representing over 180 languages, households across the economic spectrum, and the full ethnic and racial diversity that makes up America.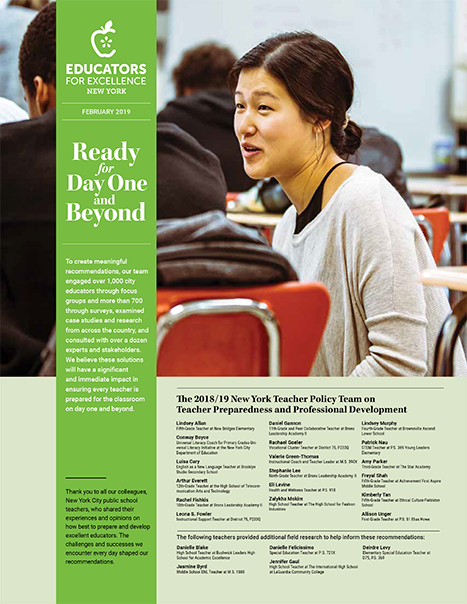 Unfortunately, only 39 percent of New York's teaching workforce reflects that diversity. As educators, we demand diversity in our teaching workforce that reflects the diversity of our students.
Every child deserves to see themselves in classroom leadership and gain the benefits of having an excellent educators from diverse backgrounds. In the policy paper Ready for Day One and Beyond, New York City educators call for the prioritization and investment in proven programs that do an excellent job at recruiting, training, and graduating our future excellent classroom leaders of color.
---
Take Action
It is time for Governor Cuomo and legislative leaders to make diversity a priority dure this year's legislative session in Albany. Send your message demanding diversity today!


---
What Educators Say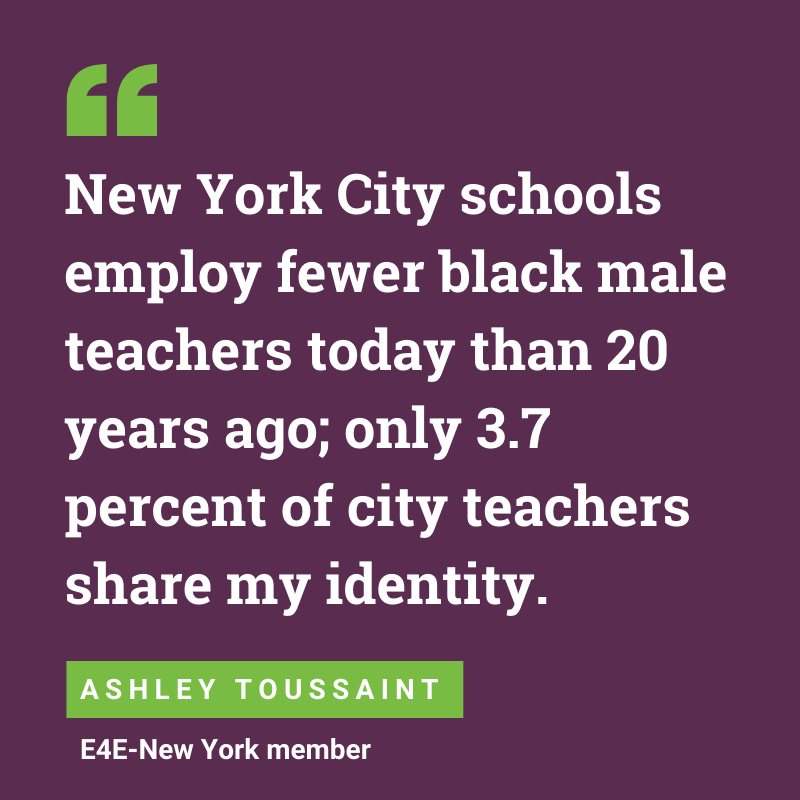 "Every day I stand in front of my classroom, filled with black and brown faces, intensely aware that I am the only black man teaching at my school," writes E4E-New York member Ashley Toussaint in the Gotham Gazette. "But I am hardly the only one that feels this. New York City schools employ fewer black male teachers today than 20 years ago; only 3.7 percent of city teachers share my identity.
In a Wall Street Journal article highlighting data from The Education Trust-New York showing how few teachers of color are in the teacher pipeline, E4E-New York member Michael Simmon talked about the impact he has on his students of color. 
"I can see the change in them, by giving them more self-esteem, hope and purpose," Mr. Simmon said. He tells them about how he DJ'd, played basketball and traveled, so "now they say, 'I can relate to him, let me pay attention.'"
---
Get Involved
To make meaningful change, we need to show up numbers that can't be ignored. Join us at a Demand Diversity event and lend your voice to our campaign.
---
Spread the Word
Can't make it out to one of our events? Support the Demand Diversity campaign by sharing one of the messages below on social media.
Facebook and Instagram
I'm demanding diversity in New York's teaching workforce because our students deserve classroom leaders as diverse as they are. #DemandDiversity #E4ENY https://bit.ly/2kcbmoK
Twitter
Did you know that over 200 school districts in New York employ ZERO educators of color? Tell @NYGovCuomo to change that by investing in programs that recruit & train educators of color. Click to send a message: https://bit.ly/36ywSGI #E4ENY #DemandDiversity


I'm demanding diversity in New York's teaching workforce because our students deserve classroom leaders as diverse as they are. #DemandDiversity #E4ENY 


Educators are demanding diversity in New York's teaching workforce. @NYGovCuomo @NYCMayor @DOEChancellor will you invest in making diversity a priority? #DemandDiversity #E4ENY