The Trump Administration rescinded federal guidance issued in 2014 that gave teachers and schools the tools to more fairly and effectively discipline students without discriminating based on race, origin, or disability. Too many students of color and students with disabilities are disproportionately suspended or expelled - pushing kids into the school-to-prison pipeline. Rescinding the guidance and failing to put forward a concrete plan of how schools can end unjust discipline disparities reflects a true failure of leadership.
---
The Trump Administration Rescinded Critical Discipline Guidance. Take Action to Ensure Your State Officials Don't Make the Same Mistake!
The Trump Administration has failed to lead, so we must turn our attention to state leaders and ensure they are doing everything they can to keep students in class, not handcuffs.
Contact your state legislators right now and ask them to commit to supporting efforts to reduce discipline disparities. We can't afford for our state leaders to make the same mistake the Trump Administration has made.


---
National Teacher Survey: Educators Support Non-punitive Discipline Strategies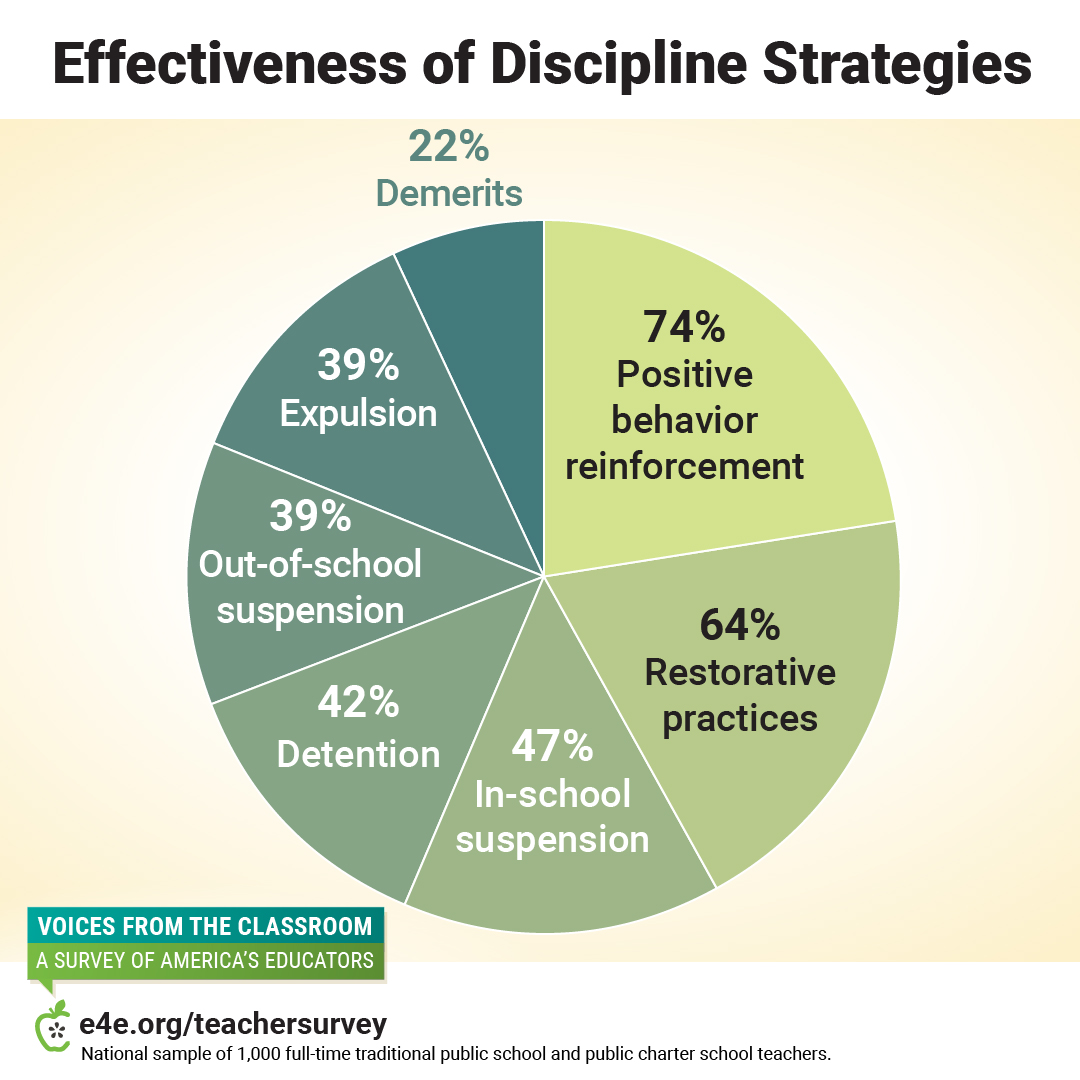 Our groundbreaking survey, Voices from the Classroom: A Survey of America's Educators, found that teachers are concerned about school safety and want more training on how best to address school violence and improve student behavior using non-punitive strategies.

Conversations about school climate, school safety, and student discipline have become intertwined, as politicians, administrators, teachers, and the general public seek to understand the causes of school violence and the steps that can be taken to make schools safe places for everyone. More than seven out of 10 teachers believe positive behavior reinforcement is the most effective discipline strategy while 40 percent of educators want more professional development opportunities around alternatives to punitive discipline.
---
What Educators Say
Since 2017, E4E teacher members and education supporters have taken action to show their support for federal guidance issued in 2014 that gave teachers and schools the tools to more fairly and effectively discipline students without discriminating based on race, origin, or disability.
---
Spread the Word
Use the graphics below to ask your colleagues and friends to join you in taking action on social media.
---
Educator Efforts to Keep the Guidance
Since the launch of In Class, Not Cuffs in fall 2017, hundreds of members and supporters across the country have declared why discipline without discrimination is so critical for students and schools.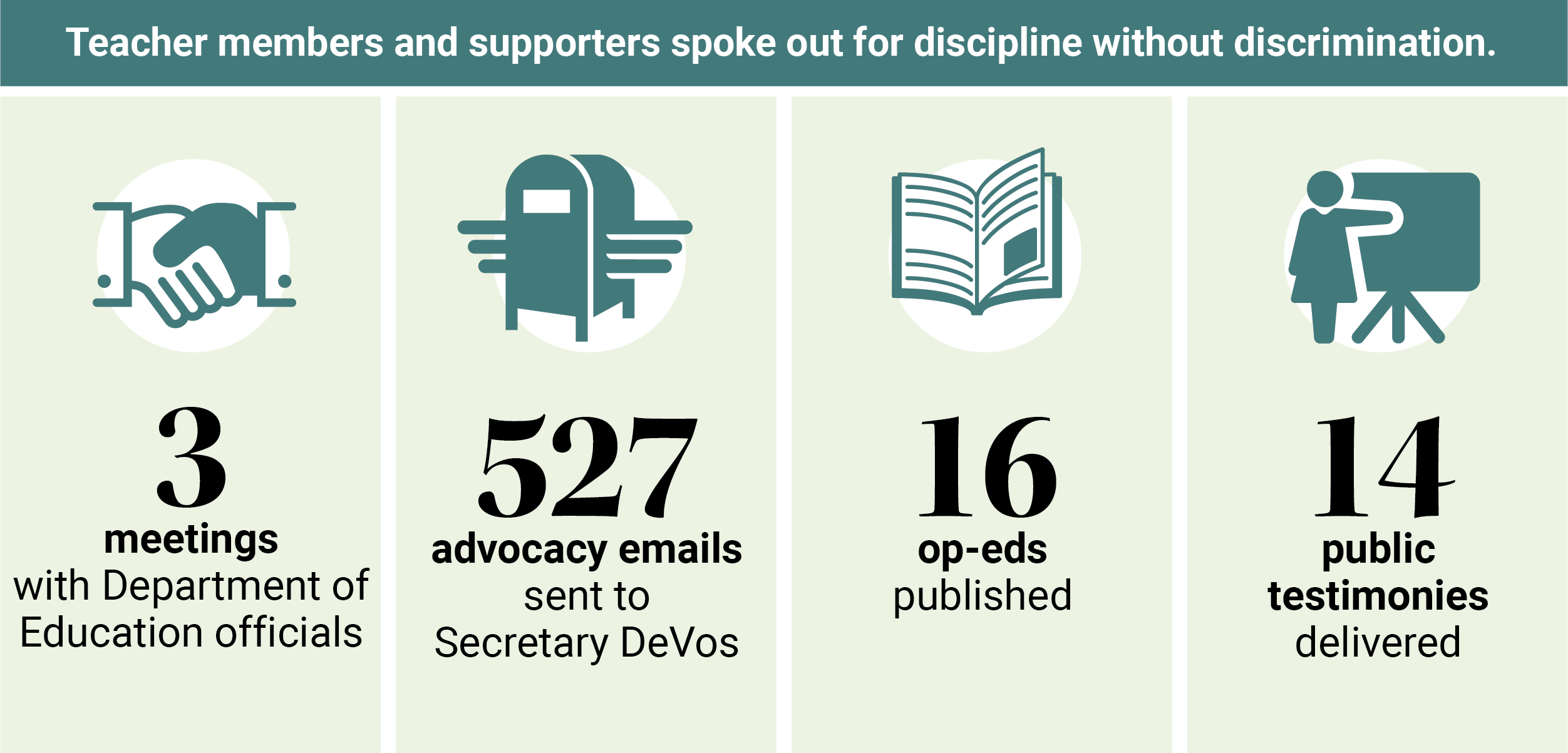 ---
Teacher Voice Podcast: In Class, Not Cuffs
In this episode of Teacher Voice, hosts Cyndi and Brendan chat with Misti Kemmer, a fourth-grade teacher from Russell Elementary in Los Angeles, and Tynisha Jointer, a behavioral health specialist who works for Chicago Public Schools. The two educators discuss their own educational journeys, as well as their experience advocating in Washington D.C. as a part E4E's #InClassNotCuffs campaign. The conversation zooms in and out, discussing the importance of the 2014 Discipline Guidance issued by the Obama administration and the potential consequences of rescinding it.
---
In Class Not Cuffs: Rethinking School Discipline
In January 2018, we teamed up with the Center for American Progress to lead a discussion on how school discipline guidance provided by the Obama administration in 2014 can help public schools eliminate discipline disparities and keep students. Watch the panel discussion moderated by E4E Co-Founder and Co-CEO Evan Stone.
---
A Growing Movement
Over 100 states, organizations, and districts are standing with us to support the crucial principles outlined in this federal guidance. E4E and The Discipline Revolution Project partnered with the following leaders and organizations to send a letter to U.S. Department of Education and the U.S. Department of Justice urging them to maintain the guidance. Read the letter and see our supporters below.
| | |
| --- | --- |
| State and District Leaders | The Council of the Great City Schools;  Tom Boasberg, Superintendent of Denver Public Schools;  Steve Canavero, Ph.D., Superintendent of Public Instruction, Nevada Department of Education;  Richard Carranza, Chancellor, NYC Department of Education;  Brenda Cassellius, Ed.D., Commissioner of Education, Minnesota Department of Education;  Tommy Chang, Ed.D., Former Superintendent of Boston Public Schools;  Chad E. Gestson, Ph.D., Superintendent, Phoenix Union High School District;  Eric S. Gordon, CEO, Cleveland Metropolitan School District;  Christina Grant, Assistant Superintendent of the Innovation and Opportunity Network, The School District of Philadelphia;  William R. Hite, Jr., Ed.D., Superintendent, The School District of Philadelphia;  Barbara Jenkins, Ed.D., Superintendent of Orange County Public Schools;  Jason Kamras, Superintendent of Richmond Public Schools;  Christopher N. Maher, Superintendent of Providence Schools;  Pedro Martinez, Superintendent of San Antonio Independent School District;  Rich K. Nye, Ph.D., Superintendent of Ogden Public Schools;  Robert Runcie, Superintendent of Broward County Public Schools |
| Education Organizations | ACCES;  Allies for Educational Equity;  American Association of People with Disabilities;  American Federation of Teachers;  Bazelon Center for Mental Health Law;  Being Black at School;  Blue Engine,  Anne Eidelman, CEO;  Bright Beginnings, Inc;  CASEL, Roger Weissberg, Chief Knowledge Officer;  Center for American Progress;  Clearinghouse on Women's Issues;   Council for Exceptional Children;  Council for Learning Disabilities; Council of Administrators of Special Education; Council of Parent Attorneys and Advocates;  Division for Early Childhood of the Council for Exceptional Children (DEC);  EdAllies;  Democrats for Education Reform;  EdNavigator;  Ednovate;  Education Forward DC,  Maura Marino, CEO;  Education Leaders of Color Education Reform Now;  Educators for Excellence;  Forward Change Consulting;  GLSEN;  Higher Education Consortium for Special Education;  Human Rights Campaign;  Leading Educators,  Jonas Chartock, Ed.D, CEO;  Massachusetts Parents United,  Keri Rodrigues, Founder;  National Association of Secondary School Principals;  National Center for Learning Disabilities;  National Center for Special Education in Charter Schools;  National Disability Network;  New Leaders, Jean Desravines, CEO;  NYC Leadership Academy;  Pahara Institute;  Adria Goodson, Chief Program Officer;   Pahara Institute, Kimberly C. Smith, Chief Executive Officer;  Ripple Effects;  School Social Work Association of America;  Stand for Children;  Stand for Children - Tennessee;  Teach For America,  Elisa Villanueva Beard, CEO;  Teach Plus;  The Advocacy Institute;  Teacher Education Division of the Council for Exceptional Children;  The Broad Center;  The Discipline Revolution Project;  The Education Trust;  The Fellowship: Black Male Educators for Social Justice;  Third Way Solutions;  TNTP, Dan Weisberg, CEO;  TNTP, Dr. Jack L. Perry;  TNTP, Joseph Hettler;  Turnaround for Children, Brigid Ahern, CEO |
| Charter Organizations | ACE Charter Schools;  Achievement First;  Alliance College-Ready Public Schools;  Alpha Public Schools Chicago Collegiate Charter School;  Democracy Prep;  Green Dot California;  Green Dot National;  Green Dot Tennessee;  Green Dot Washington;  Harlem Village Academies;  Hebrew Public;  IDEA Public Schools;  KIPP Foundation;   KIPP Massachusetts,  KIPP Texas Public Schools;  LEARN Charter School Network;  Rocketship Public Schools;  Summit Public Schools; Voices College-Bound Language Academies |
| Other | Jim Kohlmoos EDGE Consulting LLC;  Sims-Fayola Foundation;  Travis J. Bristol, Ph.D.;  Peter Paul Assistant Professor at Boston University;  Wheelock College of Education and Human Development;  Felecia Evans, Principal, Lander Elementary School, Ohio;  Ron Rapatalo, Education Consultant |