Anti-racist educators leading culturally responsive classrooms is the cornerstone of E4E's mission to ensure that all students have equal access to a quality education. We know that teachers are working tirelessly to create more welcoming and inclusive classrooms for their students. But with attacks taking place across the country on what teachers can teach, including attacks against culturally relevant education and pedagogy, we know that educators need our support. 
Teachers are the best guides to understanding the students they see every day. They should be able to teach honest history and lessons that speak to their own students' experiences without censorship. One size fits all isn't an effective education—culturally relevant classrooms are what students need. In response to attacks on teachers, add your name in support of inclusive classrooms that uplift all students and put them in a position them to succeed.
---
Why is Culturally Relevant Education Important? 
---
Survey Results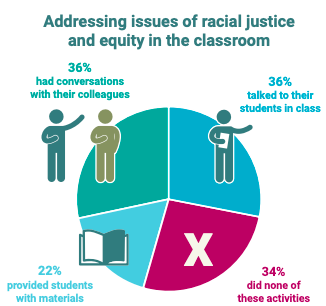 Our groundbreaking survey, Voices from the Classroom: A Survey of America's Educators, found that many teachers (62%) have been concerned this school year about systemic racism. This concern increases for teachers under the age of 30 (76%), those in schools reporting a majority of students of color (72%), and teachers of color (71%).

Only 36% of claim they talked to their students in their class about racial justice and equity, with only 22% reporting they provided students with materials focused on racial justice and equity.
---
Resources for teachers
Learn more: 
Creating inclusive, anti-racist classrooms:
---
Featured Coalition
Learn from History is a broad-based coalition of organizations of parents, students, teachers, school system leaders, community leaders, and other concerned Americans, facilitated by Stand for Children Leadership Center.
---
Boston's ABC Campaign
Advocating for an Inclusive Curriculum in Boston

E4E-Boston educators worked hard to design, write, and advocate for a bill that creates antiracist curriculum frameworks in Massachusetts. Now, the Racially and Culturally Inclusive Curriculum Act is a reality and has a real chance at passing in the Massachusetts legislature. Help show decision-makers that it has broad support by adding your name to our petition.
---
Social Media
POST ON FACEBOOK, TWITTER, AND INSTAGRAM
TELL OTHERS WHY STANDING IN SOLIDARITY FOR CULTURALLY RELEVANT CURRICULUM MATTERS.
Students should see themselves in their curriculum! That's why I'm standing in solidarity for #CulturallyRelevant classrooms across the country. Add your name if you agree - https://bit.ly/3CLeBXz @ed4excellence #E4E


Copy & paste this message to Facebook

Students should see themselves in their curriculum! That's why I'm advocating for inclusive and equitable education practices, and why I won't be silenced by oppositional efforts to censor what teachers can say in their classrooms. Add your name if you agree - https://bit.ly/3CLeBXz and follow @ed4excellence for updates on our push for #CulturallyRelevant classrooms.

Post a picture of what your culturally relevant classroom looks like, and copy & paste this message to Instagram

Students should see themselves in their curriculum! That's why I'm advocating for inclusive and equitable education practices, and why I won't be silenced by oppositional efforts to censor what teachers can say in their classrooms. Follow @ed4excellence for updates on our push for #CulturallyRelevant classrooms.

---

 #E4EBOS #E4ECHI #E4ECT #E4ELA #E4EMN #E4ENY #teachergram #teacherlife #teachersofig #teachersfollowteachers #teachersofinstagram #teachers #edequity #edchat