The game-changing factors and people elevating school climates and learning outcomes in LAUSD
April 2015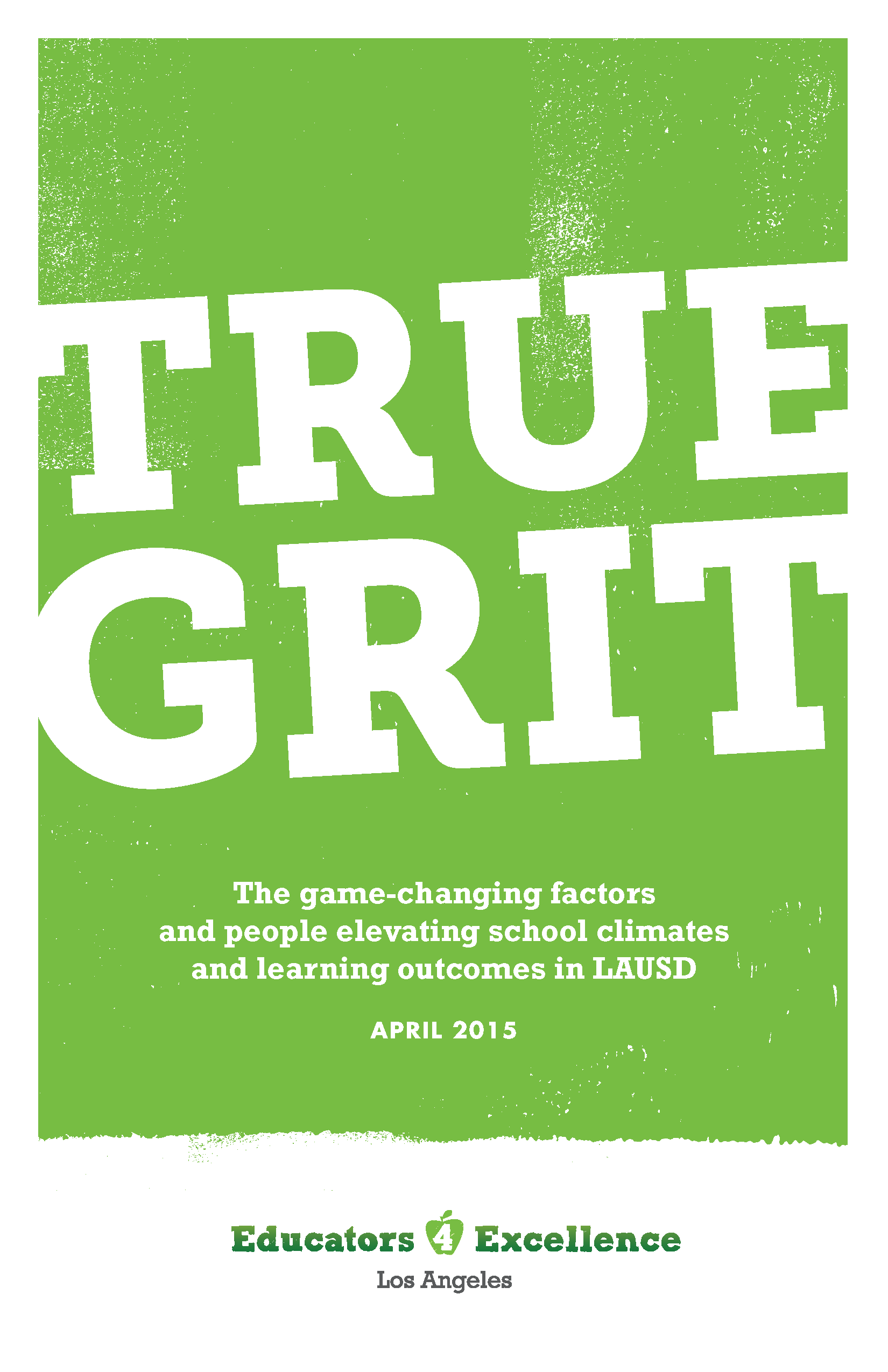 In 2015, Educators for Excellence-Los Angeles released its second "True Grit" report on the best ideas and practices used at diverse district and public charter schools in the Los Angeles Unified School District (LAUSD). Focusing on schools that showed a significant growth of 40 points or more in data published by the Academic Performance Index (API), we set out to spotlight the work teachers are doing to drive improvement. The API is an indicator used to measure school performance across California, ranging from a low score of 200 to a high of 1000. It is based on the results of statewide assessments and reflects a school's academic performance.
E4E-Los Angeles team members visited all 29 schools showing remarkable growth and held focus groups with more than 300 teachers, administrators and other school-site personnel. Our aim was to unearth the strategies used to elevate expectations, morale, and performance at these schools.
We identified four true grit factors important for improved student performance:
Making data dynamic: Schools need data, which can be used as a tool to guide their practice by illuminating the strengths, challenges, and gaps among their students. Data can also spotlight a teacher's blind spots and best practices, which can inform decisions about areas for peer support, collaborative planning, and professional development.
Working smarter together: The staff who cited this factor as game changing are creating a team approach to identifying instructional gaps and challenges, planning for student success, evaluating their school's progress, and creating responsive professional development to share best practices.
Strengthening school culture: Schools that selected this factor as pivotal to their growth in achievement have intentionally prioritized culture as the building block for success. They define and refine the expectations, systems, and protocols that crystallize what culture looks, feels, and sounds like for their students, staff, and families.
Partnering with families and the community: This true grit factor was mentioned as a strategy leveraged to enhance all the other factors. However, staff also cited the lack of community engagement capacity and expertise on their campuses. Not surprisingly, schools that had dedicated roles focused on partnerships tended to have more parent and community engagement on their campuses.