The game-changing factors and people lifting school performance in LAUSD
March 2013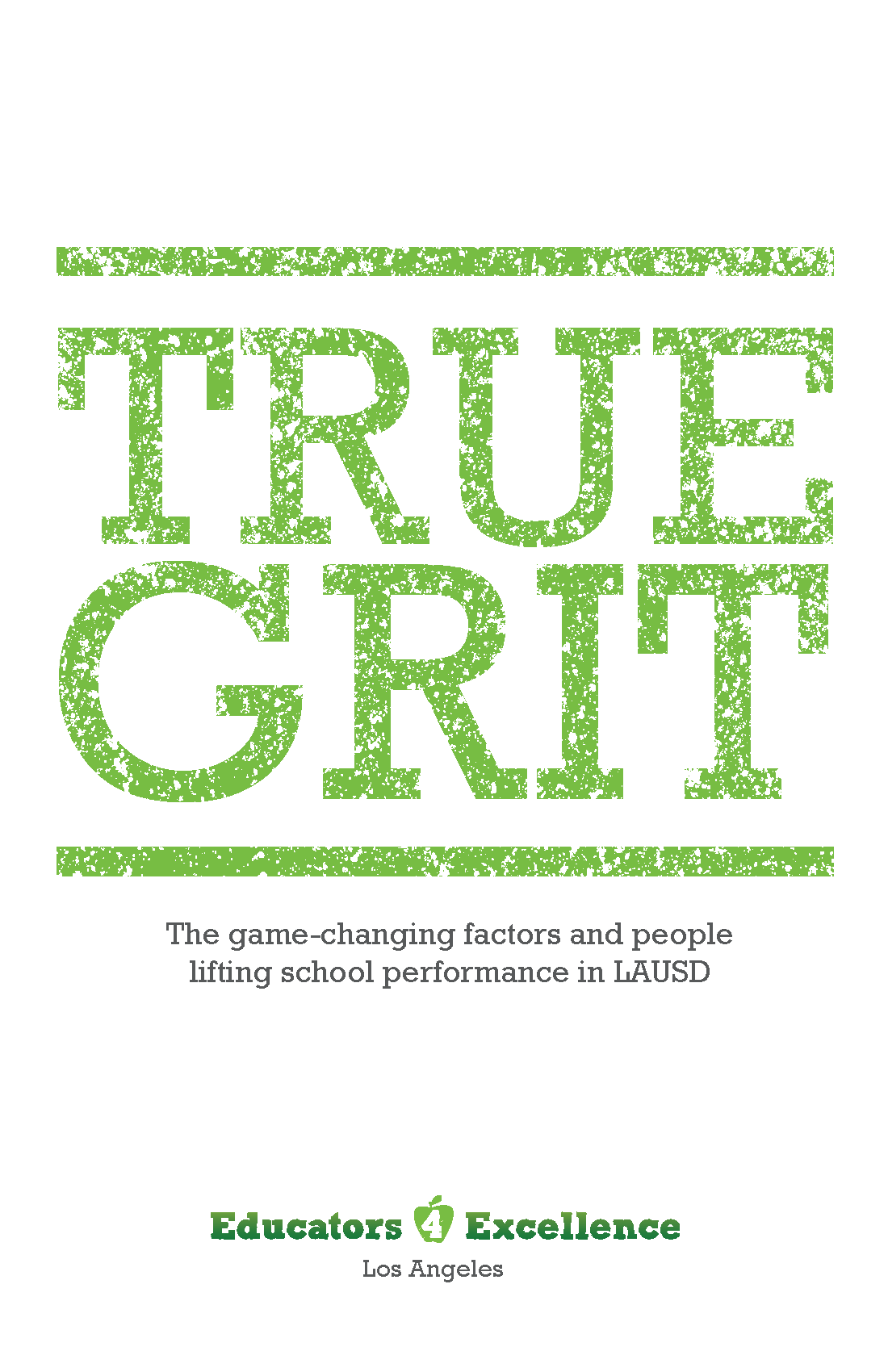 In 2013, our team of Outreach Directors at Educators for Excellence-Los Angeles set out to learn from schools that grew 40 points or more based on data published by the Academic Performance Index (API). The API is an indicator used to measure school performance across California, ranging from a low score of 200 to a high of 1000. It is based on the results of statewide assessments and reflects a school's academic performance.
We visited all of the 35 schools featured in this report and held focus groups, which were structured conversations with more than 400 teachers, administrators, and other school-site personnel. Our aim was to unearth the strategies used to elevate expectations, morale, and performance at their schools.
After conducting focus groups and interviews, we analyzed the data to identify consistent trends in terms of strategies commonly leveraged in these schools. We identified five "true grit" factors key to improving student performance and collected specific examples of how Los Angeles schools are putting them to use:
Strengthening school culture: Culture-building was identified as one of the most important game-changing strategies to elevate morale, which in turn elevates performance. We highlight strategies used to strengthen culture for students, school staff, families, and the wider community.
Making data dynamic: Data should never reduce students to mere proof points or test scores. On the contrary, effective use of data provides a complex and nuanced perspective on the strengths and challenges of our students and of our teaching. In schools that are closing the student performance gap, data is driving a lively and multifaceted conversation about the work of teaching and learning. When used dynamically, data empowers students, teachers, parents, and school leaders to make informed decisions.
Working smarter together: Schools with collaborative cultures work smarter—not simply harder—when they are able to share questions, ideas, and practices. As a result, collaborative schools challenge the traditional isolationism of teaching, engaging teachers, and school leaders to jointly determine solutions to shared problems.
Building smarter systems: The behind-the-scenes systems for organization and communication are often the connective tissue that enables schools to flourish. Systems make it easier for schools to create a positive culture, communicate, and collaborate with staff, parents, and students. By creating smarter systems, schools can boost efficiency and ensure accessibility—particularly around tracking data, planning instruction, and communicating effectively.
Partnering with families and the community: To build meaningful relationships with parents and the community, these schools intentionally create time and space for collective dialogue, problem solving, and shared leadership. This whole-community approach reminds students and teachers that our entire city is deeply invested in ensuring students go on to promising colleges and careers.