Teachers Talk Back: Kristina Kelley
Kristina Kelley is in her ninth year as a high school social studies teacher at Claremont International High School in the Bronx. In this conversation she shares her experiences with E4E's campaign on school climate and expanding restorative justice throughout the city.
Describe what you do and why you got involved in education?
I have been a teacher leader and student advocate in the South Bronx since 2008. If not for the plethora of teachers and school staff who influenced and raised me, I wouldn't be here today fighting for our students' futures. Growing up, I spent every possible moment I could at school, much like many of our students. The world needs teachers like the ones with which I grew up. Ones who taught me how to win and more importantly how to lose. They taught me to gather my experiences like knowledge from our books and to constantly go through self-reflection in order to see how I could be better and how we could improve the world around us. My teachers and coaches inspired me to believe in myself and the value of others. I had to ensure that our students got the same opportunity to be empowered, loved and successful.
What have been the best parts of your experience as a New York City public school teacher?
The best parts of being in education are the genuine and life-giving relationships, with students and school communities, that I've had the opportunity to experience. I have had the privilege of teaching over one thousand students now, many of whom I still speak to regularly. When you become an educator, no one prepares you for the reality – that you will learn more about yourself and others than you thought humanly possible. When you get to grow and learn alongside the future of our world, you get to see and feel true pride, disappointment, growth and tenacity. A mentor of mine, the most generous person I've ever known, used to tell me that he was not being charitable with his generosity, rather he was investing in his future. I have been able to reinvest what he gave me into my own future – the students and families who have allowed me to be a part of their lives and who will change the world.
What drew you to the E4E-New York Restorative Justice and Spoken Word event you attended last week?
Restorative Justice is a term the education community has been saying more and more and is even given a nod in the newest version of the NYC Chancellor's Regulations, but what is it and what does it look like? Is it simply a socio-emotional education? Does it even have one, universal definition? Currently, I don't think we, as a city, have the clearest idea of what this is and how it should look. Additionally, I've always been interested in spoken word and other creative, less traditional ways of reaching our students and allowing them to express themselves.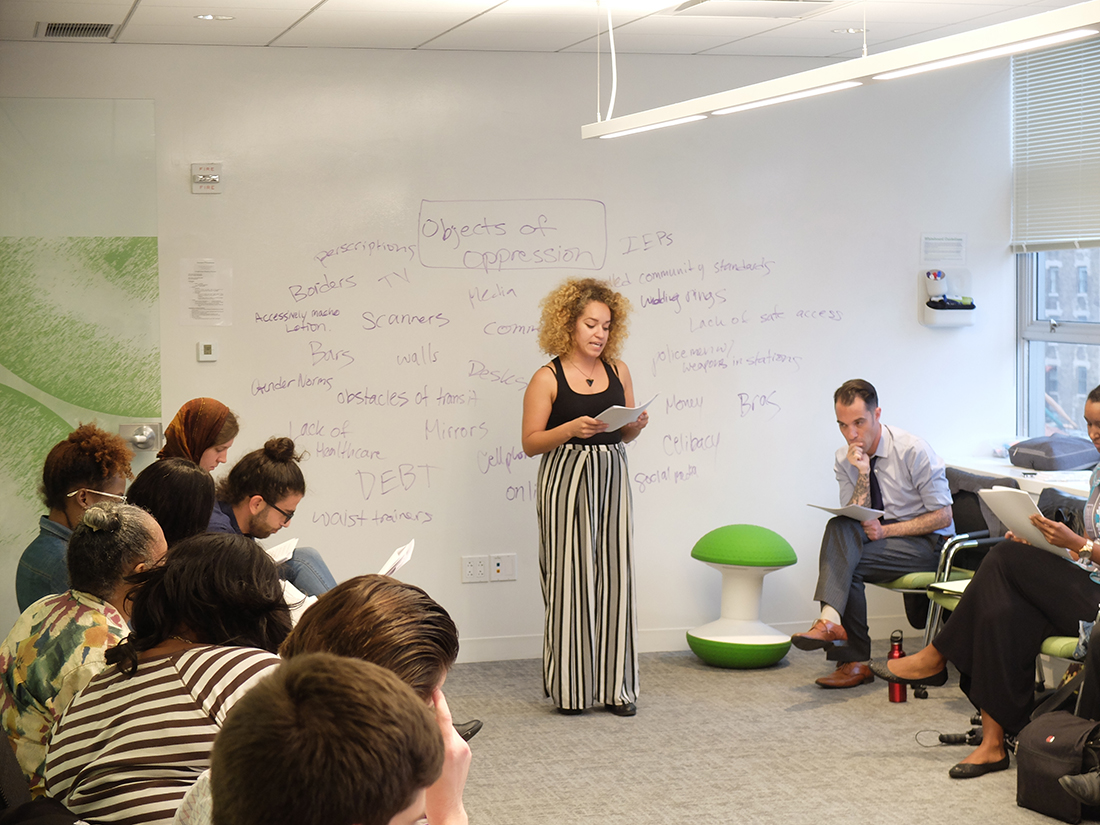 Describe your experience at the event.
I got exactly what I wanted – a professional learning experience. We were not just presented information. Spoken word was modeled to us by professionals and we were immersed in the process of creating and even performing our own pieces. I was taught how I might use spoken word in the classroom, by actually going through the process we may use with our students. To put it simply, I was inspired and invigorated. The next day, I had conversations with staff and students about the possibility of doing spoken word school wide. Now, less than a week later, I have also personally written three more poems.
What inspires you about using poetry in your classroom?
Student empowerment inspires me to use poetry in the classroom. It is important that our kids have a variety of tools for self-reflection. Not everyone in the classroom will love spoken word, but now I have one more strategy at my disposal to help engage and invest my students in their own education. I felt empowered after sharing my piece. I want my students to have the opportunity to feel the same and gain just a little more agency in the education and invest in their own futures.
What advice would you give to teachers who would like to implement poetry in the classroom?
Poetry and spoken word are not perfect. Sometimes the imperfections are what give things power. In order for this to be successful, a teacher will need to be flexible. Self-expression can lead its own way and highjack even the most thoughtfully prepared lesson. So be ready to go with the flow and know that when it feels scary and foreign that you are remembering what it's like to be a student.
What are some other ways you have been involved in learning more and advocating around school climate and restorative justice campaign through E4E-New York?
I try to go to as many events and meet as many different people with ideas other than my own as possible. I have gone to networking happy hours, [New York City Department of Education] hearings, workshops and education policy table talks. Part of our job as educators is to be life-long learners. By participating in E4E and having the difficult discussions about how to improve our education system, I have solidified that I am truly, constantly learning.