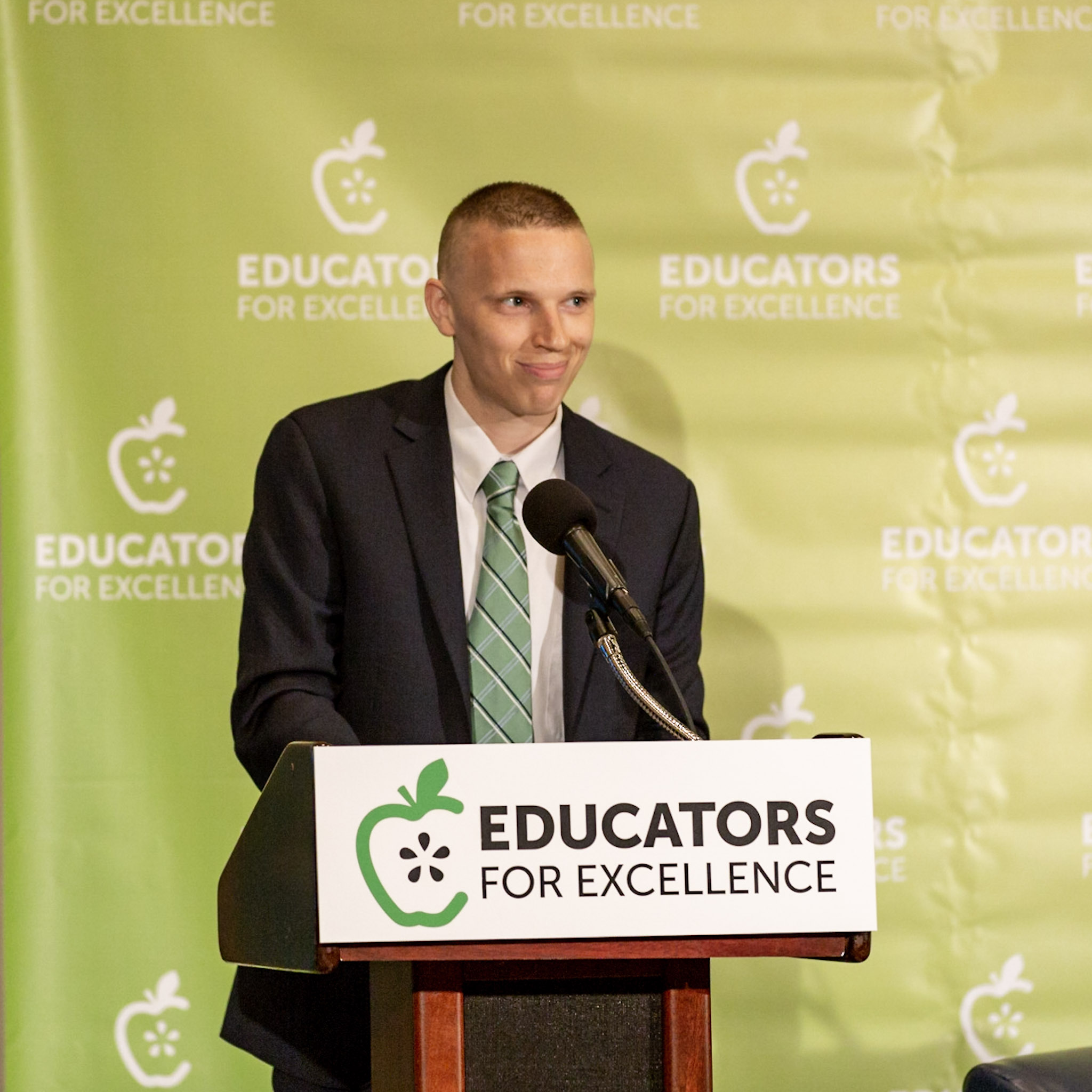 Right now, most teachers are still enjoying summer vacation, taking a break from calculating grades and crafting lessons. But I've been lost in statistics for weeks. I only just emerged, when, two weeks ago, I stood in front of an audience of D.C. policymakers and brought those numbers, the voices of America's teachers, into the room.

Even though these policymakers at every level of the system are often talking about teachers, they rarely are talking with teachers. And how can we know what teachers think or want unless we ask them? This is why I'm so proud of Voices from the Classroom: A Survey of America's Educators, a nationally-representative survey of 1,000 district and charter school teachers. Over 182 questions, we asked how educators across the country feel about a huge range of issues that impact their students and their profession. Most importantly, this survey was designed by teacher, for teachers.
As one of 12 members of the Teacher Advisory Group, I helped develop the questions asked in this survey and make sense of the data, providing context for our findings and discussing what they mean for the future of education and the teaching profession.
Here are the six key trends from the survey you need to know:
Teachers are very concerned about economic security, especially wages, salaries, benefits, and job security. Three out of four teachers said that a higher salary would most motivate them to continue being a classroom teacher for their entire career. Financial incentives to help recruit and retain diverse teachers are also very popular.
We seek more opportunities to lead while staying in the classroom, particularly as they relate to career pathways. I'm not surprised to learn 92 percent of teachers nationally seek opportunities to extend their leadership while being able to remain in the classroom.
Teachers almost unanimously agree they want more opportunity to be heard beyond their classrooms and to play a hand in shaping the policies that impacts their students and their profession. Unsurprisingly, the further teachers are from the decision-making body, the less represented they feel. And surprisingly, only 28 percent of union teachers said their union greatly represents their perspectives.
We are concerned about school safety and want more training on restorative strategies to address school violence and improve student behavior. Nearly one out of three teachers reported fearing for their own physical safety sometimes or often at their school. To manage discipline and make schools safer, we most support positive behavior reinforcement and restorative practices.
Teachers believe student growth is the single most important factor in evaluating schools' and teachers' effectiveness, but are interested in exploring non-traditional metrics. These include student portfolios and daily work, administrator and peer observations, as well as school climate indicators such as disciplinary data and feedback from students and parents.
A majority of teachers are open to school choice as long as options do not drain resources from public schools, are equally accessible to all students, and provide positive outcomes for low-income students. Only six percent are against school choice in any form.
What is especially astounding to me is how the results remained consistent across demographic subgroups like gender, age, and race. It shows that teachers are largely united in their opinions and perceptions of their profession.
There is so much more in this report than we were able to share during our release event (see a recording here) or in this post. But if there is one takeaway from Voices from the Classroom, it is that we must create new avenues for teachers to exercise their leadership and expertise in the service of their colleagues and students. My involvement with E4E has given me a way to have my voice heard beyond my classroom. As an early career teacher and active member of E4E-Boston, I've advocated for increased funding for mental health professionals in Boston Public Schools and testified before the Boston City Council. These have been incredible experiences. And it's clear to me that teachers across the country crave access to more of these opportunities. I know that if more of my incredibly talented colleagues had their voices heard, our schools would rapidly improve.
Help give teachers a say in the policies that impact them by reading the entire Voices from the Classroom: A Survey of America's Educators report here and sharing their opinions with your community.