How the Every Student Succeeds Act supports our highest-needs schools and professional development, from a teacher
By Maya Kruger
As a teacher, I have been stuck in a holdup between the shortcomings of the No Child Left Behind Act (NCLB) and change. Now, after months of negotiations resulting in the Every Student Succeeds Act (ESSA) and the passage of the act by the House on Wednesday, we are on the verge of resolving our suspense. Here's why we need to keep moving forward.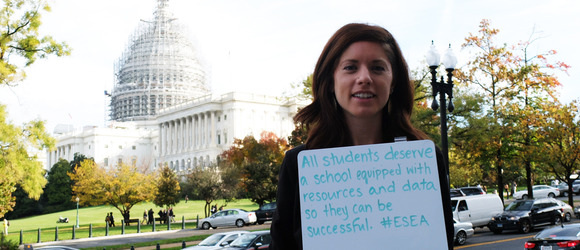 Maya Kruger 
Why this matters
As a teacher in a state with one of the largest achievement gaps in the nation, this legislation is particularly important to me. I work in a class of 28 amazing students. Eighty-two percent are English language learners, and 95% are receivers of free and reduced lunch.
I have experienced both the power of legislation that has exposed gaps in achievement, such as NCLB, that separate traditionally underserved students from their peers, and also the unintended consequences when the fate of schools rested on achieving a nationally specified rate of progress from two tests.
My students need more learning time, more support, and more resources. It's not that they need more than others, it's that they need more to achieve what others have.
How teachers like me shared a classroom perspective on ESSA
That's why, a couple of months ago, I joined a teacher action team with eleven teacher leaders from across the U.S. in developing legislative recommendations for one of the largest pieces of education legislation of our careers.
We called on legislators to avoid diluting Title I dollars for high-poverty schools, to strengthen school accountability for traditionally underserved students, and to elevate teaching and promote teacher leadership. We wrote about why students deserve a quality education no matter their zipcode, how Congress can restore the promise of education, why Title I portability doesn't make sense, and the need for Congress to take action on a new ESEA now. We even led a Twitterstorm to tell Congress what they want from an ESEA renewal.
Supporting our highest-needs schools
In many ways, the ESSA reflects teachers' core priorities. The ESSA contains several recommendations that we know will benefit teachers and students including:
avoiding a provision for portability of Title I;

retaining annual testing for students in grades 3-8 and once in high school in reading and math;

requiring states to identify and take action in the bottom 5 percent of schools, and schools where less than two-thirds of kids graduate; and

requiring states to identify and take action in schools that aren't closing the achievement gap between poor and minority students and their peers.
Promoting teacher leadership
In addition, the bill's new Title II language includes opportunities for effective teachers to lead through new career opportunities and advancement initiatives that promote professional growth and emphasize multiple career paths. These opportunities sanction instructional coaching and mentoring, and include hybrid roles that allow teachers to take on instructional coaching and mentoring while remaining in the classroom. We also applaud the Title II elements that require creative strategies which support the recruitment and retention of effective teachers, principals, and school leaders in hard-to-staff schools and subjects.
Worth the holdup—but we're not done yet
Though there is much to celebrate, the ESSA weakens the federal role in ensuring our schools serve all learners. An imperfect bipartisan compromise has emerged that gives states authority over accountability. Though this could potentially leave students like mine hanging by the edge of their potential, I believe it is better than the status quo that would continue if nothing passes.
Therefore, at this critical juncture, I urge Congress to proceed with undertaking this opportunity to enact meaningful legislation. My students depend upon these decisions to access English Language Development services so that they may access the content they'll need to be engaged citizens. They depend upon these decisions so that they may have access to a school nurse that can treat their physical maladies, and access to social workers and counselors who treat the maladies we cannot see. they depend upon these decisions so that no matter whose classroom they find themselves in, they will have an effective teacher in a school run by effective leadership teams that foster growth and continual education.
The time is now. Pass the ESSA—we've been held up long enough.
Maya Kruger is a fifth grade teacher at College Prep Elementary School in St. Paul, Minnesota and is a member of Educators 4 Excellence-Minnesota.