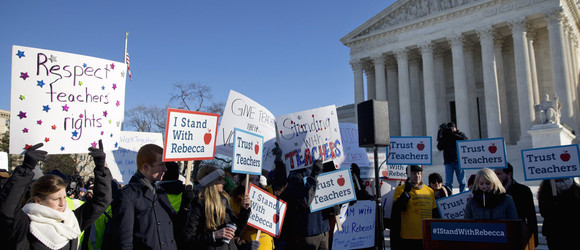 Oral testimony began this week in Friedrichs v. CTA. The question at the core of this case is whether or not a fair share fee paid to unions by public service workers infringes on a teacher's First Amendment Right. The case presents a highly nuanced and controversial topic being hotly debated through a steady stream of news coverage and numerous amicus briefs filed to the Supreme Court.
As an organization that works every day with teachers, we approach the debate being argued through the Friedrichs case by asking ourselves, what do teachers think? So we polled Educators 4 Excellence members to ask them if they were aware of the case and whether or not they support public service workers paying fair share fees to cover the cost of collective bargaining. Over 1,000 teachers responded. Among them, a mere 17 percent were aware of the Friedrichs v. CTA while 55 percent responded that they support public service workers paying fair share fees, demonstrating opposition to debate Friedrichs poses by a three-to-one margin. 
Our members' responses led us to take a public position on Friedrichs, and we recently held a call with American Federation of Teachers (AFT) President Randi Weingarten to help our members learn more.
To better understand our position and our desire to engage teachers on Friedrichs in partnership with AFT, we invited E4E members to share their perspectives. 

Steve Fouts, E4E-Chicago
"I am a high school math teacher from Chicago's west side who has worked in the Chicago Public Schools for ten years.  I do not serve as a Chicago Teachers Union (CTU) delegate but I am a member..." Read more
Camila Correa, E4E-New York
"The invitation from Educators 4 Excellence and the American Federation of Teachers to join a call on Friedrichs v. CTA granted me the opportunity to..." Read more
Tom Rademacher, E4E-Minnesota
"In a perfect world (or even a slightly less stupid one), this court case wouldn't matter. It's the union's job to represent their teachers..." Read more