To commemorate the 60th anniversary of Brown v. Board of Education, E4E teachers have been guest blogging on Education Week for Rick Hess about necessary steps to increase equity in our schools. We're excited to share with you each of the great posts from this week, as well as ways you can continue the legacy of this case.
Read the posts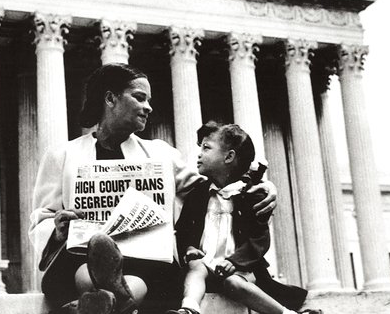 May 12, 2014 – As E4E co-founders Evan Stone and Sydney Morris write, the anniversary of the Brown decision this week highlights the need to continue work on reforms to erase educational inequality.
May 13, 2014 – E4E-New York teacher Darby Masland identifies teacher attrition from hard-to-staff schools as a key part of addressing the teaching quality gap. 
May 14, 2014 – The School Climate Bill of Rights passed by LAUSD last year was a key step, but implementation needs to be better, writes E4E-Los Angeles Teacher Policy Team member Steven Almazan. 
May 15, 2014 – E4E-Connecticut teacher and Teacher Action Team on School Funding member Marilyn Pearson shares three things that need to happen for school funding to be distributed more equitably.
May 16, 2014 – From experience and research, teacher diversity matters, writes E4E-Minnesota Teacher Leader Ryan Mulso.
Take action
As educators, one way we can continue the legacy of this case is to spread our colleagues' ideas for how to move these policies forward. Visit our Facebook page to share graphics from each of this week's posts: