I just walked out of a meeting with U.S. Secretary of Education Betsy DeVos and five other E4E members at the Department of Education in Washington, D.C. I'll tell you exactly what I told her: Title II must be fully funded. Period.
Secretary DeVos may cut funding to this program. Why does it matter? Title II is the only dedicated source of federal funding for professional learning and leadership support for teachers and principals.

I told Secretary DeVos why she must fully fund Title II. But she needs to hear from you, too!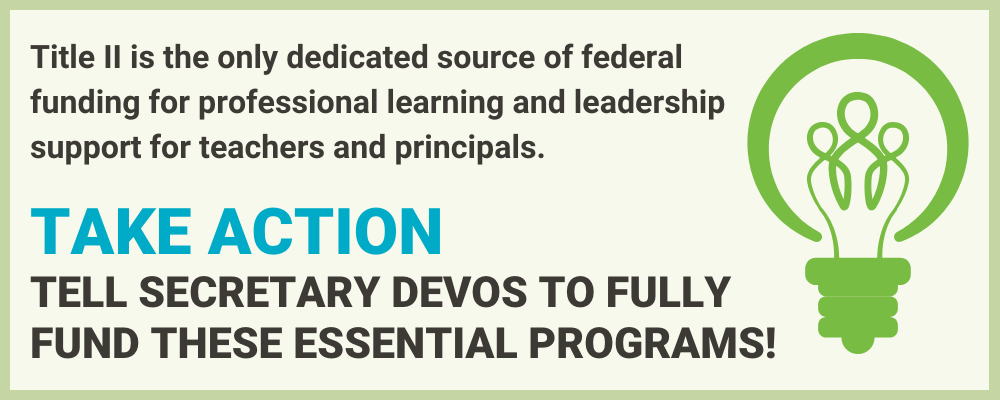 As you and I know all too well, teachers are the most important in-school factor impacting student achievement, and the demand on teachers is immense. We are up to that challenge, but must be given the necessary support to be successful.

Fully funding Title II will give teachers more opportunities to further our careers and professional skills while remaining in the classroom. Far too often we lack professional development opportunities that truly meet our needs. We need opportunities provided through Title II that are teacher-led, collaborative, and that allow us to be coached and supported.

Please take two minutes right now to encourage Secretary DeVos to fully fund Title II in her next budget. She needs to hear from educators like us.

Fully funding Title II will help recruit and retain talented teachers, create opportunities for more effective professional development, and drive better student outcomes. Thank you for standing with us!

In solidarity,

Shifra Adler
Chicago High School for the Arts
E4E-Chicago Member
---