For E4E-Chicago teacher Latasha Mallory, mental health always took a backseat. "For the past 20 years, I often prioritized my students' mental health above my own." But she has learned that teachers' mental health must be nurtured just as much as students'.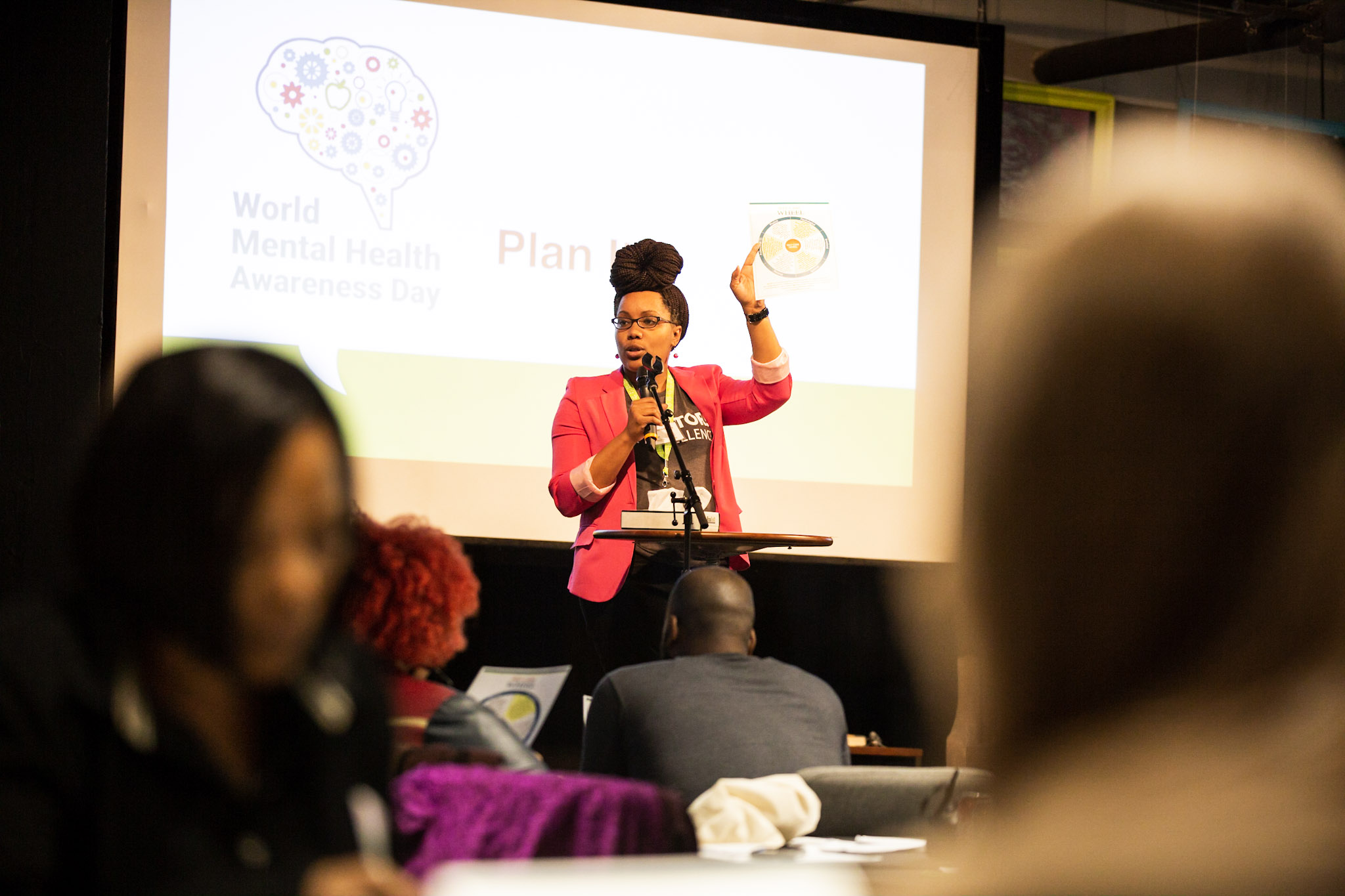 When Latasha began teaching at Ruggles Elementary, she replaced a teacher who had died by suicide earlier that year. "The children were aware of the situation and that impacted the learning in my classroom. I collaborated with the special education teacher and the counselor to engage the students in peace circles and group challenges in order to help them cope. It was a very challenging year."

Educator mental health is a large piece of a school's climate and culture. E4E-Chicago educators have been advocating for school climate and culture-related issues since June 2017 when they published their educator-written policy paper, Sounding the Alarm. Nationally, 46 percent of teachers report high daily stress, resulting in lower student achievement and higher teacher turnover. Recognizing that trauma impacting students often impacts educators, E4E-Chicago members have focused on addressing educator needs this past summer.


A recent E4E-Chicago survey of over 1000 educators in Chicago Public Schools showed that 72% of educators agree or strongly agree that they know how to manage their own mental health needs, but that only 51% of educators agree or strongly agree that their stress at work is manageable.

Think, Plan, Share: A Chicago's Guide to Mental Health brought educators together from across the city to reflect and plan on how they are going to prioritize their mental health this year. Representatives from Chicago Public Schools, the Office of Social Emotional Learning, and the Chicago Teachers Union were present as E4E-Chicago leaders emceed the event and taught other educators practical mental health skills such as how to have empathetic conversations and how to take a mindful minute.
Watch educator stories on how mental health has affected their teaching
| | |
| --- | --- |
| Shameka Jones shares her mental health story | Charles Beavers shares his mental health story |
Check out photos from the event
What people are saying
@ChiPubSchools educators enjoyed an evening focused on self-care with @Ed4Excellence in recognition of World Mental Health Awareness Day! I am so inspired by the incredible work that our teachers do everyday in service of children. Thank you Educators4Excellence Chicago! @oselcps pic.twitter.com/WEvmMGX9Dg

— LaTanya D. McDade (@CPSTeachLearn) October 11, 2018
Although our stories are individual, they are not unique. We cannot be effective when we are afraid, empty.#E4EChi#teachermentalhealth#educatormentalhealth#worldmentalhealthawarenessday#endthestigmatization #starttheconversation @Ed4Excellence

— Ashley McCall (@ashlm_12) October 11, 2018
@Ed4Excellence ,thank you for another amazing event! #selfcare for teachers...#E4EChi pic.twitter.com/kk5SqOcCm1

— Dr. W. Williams-Hall (@WWH_EdD) October 11, 2018
Was such a pleasure to be able to facilitate this exercise on #WorldMentaHealthDay we all love the feeling of being heard! #E4ECHI https://t.co/ClfFzGzVY9

— Dayna Heller (@droseh) October 11, 2018
Excited to be a room full of Chicago educators who value their mental health #E4ECHI #WorldMentaHealthDay pic.twitter.com/Yt6ipbhMHb

— Adam Marshand (@amarshandadam) October 10, 2018
Antoinette Woods, a teacher and @CTULocal1 member at Coles Elementary in @ChiPubSchools, shares what it means to have healthy mental health! #WorldMentalHealthDay #E4ECHI pic.twitter.com/1XG2dmDOgg

— Ali Fendrick (@AliFendrick) October 11, 2018
Take a mindful minute to help you destress! #WorldMentaHealthDay #E4ECHI pic.twitter.com/r6XrXe4uCo

— Shakita* (@wild__smith) October 10, 2018
Packed room. #teachers clearly want to talk about #WorldMentalHealthDay2018 #E4EChi @Ed4Excellence pic.twitter.com/24TNKcKtpW

— Evan Stone (@EvanRStone) October 10, 2018
Celebrating with E4E!#WorldMentaHealthDay

— Karen Van Zytveld (@zytveld) October 10, 2018